Functional Trainers are the most versatile and complete exercise equipment for a full-body workout at home. It is a serious consideration for versatile training. Best functional trainers are often referred to as cable pulley machines or cable crossover gyms.
These are popular because they provide various exercises on a single unit for almost all fitness levels. Only a few known gym equipments can match their versatility. We can declare them as Swiss Army Knife of the gym because of all the functionality it has under its hood.
In recent years we have seen an increase in their demand. This increase is related to their benefits and what you can achieve with them. A quality functional trainer can help you achieve your fitness goals, no matter what they are, and help you pull some serious gains.
Our Top Picks for Best Functional Trainers
We have looked across all the options for the Best Functional Trainer in all the price ranges. There are not many options available like we see in other gym equipment. So we have reviewed some low budget, mid-range, and high budget best fitness functional trainers.
If you want the best cable workouts, then XMark Functional Trainer is our top recommendation because it is the best heavy-duty functional trainer option right now. Although Xmark is a stable and sturdy piece of equipment, we cannot ignore FreeMotion Dual Cable EXT Crossover due to its most adjustable body.
But if you are low on budget and cannot afford to spend big bucks, you can choose Body-Solid BFFT10R Functional Trainer. It is a cheap cable crossover machine and has all the features you need in a functional trainer for a full-body workout.
1) Inspire Fitness Ft2 Functional Trainer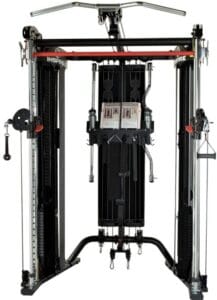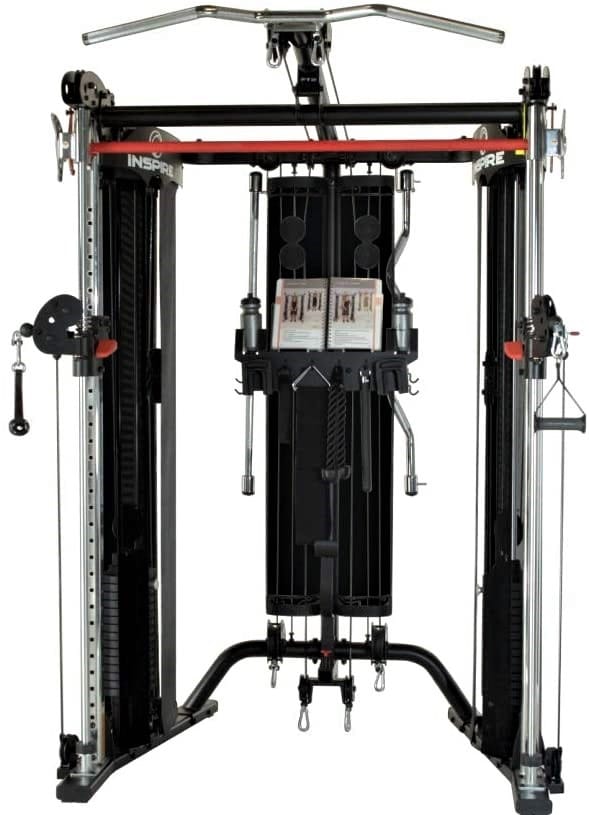 Key Features:
GTIN: B07KMVK8TL
Weight stacks: Dual 165 pounds
Dimensions: 58 x 61 x 83-88 inches (LxWxH)
Attachments: Triceps rope, dual hook straight bar, Ankle strap, multi-functional belt, EZ curl bar
Adjustable positions: 32 positions
Adjustable Pull Bar: Yes
Warranty: Lifetime
Inspire Fitness FT2 Functional Trainer is a successor of Inspire Fitness FT1 with more features like a smith bar and heftier size as compared to the compact size of FT1. However, a price jump between the two models and FT2 Trainer costs more with better overall features.
Ft2 Functional Trainer has a unique design with well-designed Olympic bars and an impressive weight stack system. A uniquely designed pulley system provides 32 adjustable positions for making it the best option for all types of workouts. Since it has a dual pulley, it is better to generate more out of workouts.
Overall, the body is very stable and looks sturdy. You can pull more than 40 workouts from this functional Trainer because it has an adjustable 160 pounds weight stack that can be upgradable to 50 pounds on each side.
We have liked this functional cable machine due to its combination of smith bar and weight multiplier. You never get short of weight capacity while doing intense workouts. You will never run out of the positions and exercises that this machine can pull without sacrificing safety.
Pros
1. Very stable and sturdy body with good stand support
2. Allows range of motions for a full-body workout and cardio
3. Dual pulley system for 32 adjustable positions.
4. Higher weight capacity with additional accessories
5. Upgradable to 50 lbs on each side

Cons
1. It isn't easy to move due to its heavy body
2. Assembly takes long hours and can take even days

2) XMark Functional Trainer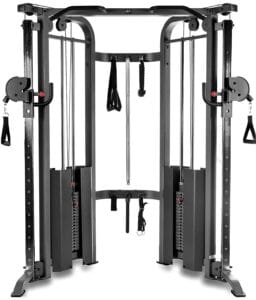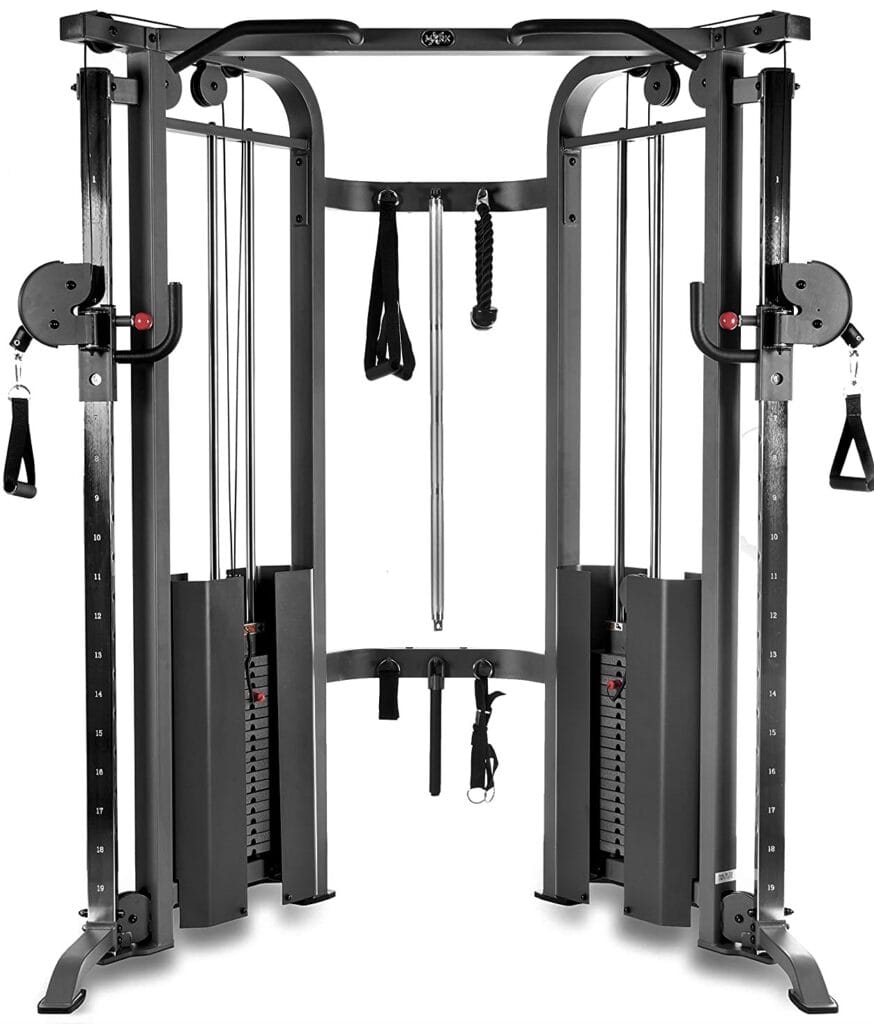 Key Features:
GTIN: B00823OQHU
Weight stacks: Dual 200 pounds
Dimensions: 65 x 43.5 x 83 inches (WxLxH)
Attachments: long bar, short bar, triceps ropes, long strap handles, hand straps, ankle straps
Adjustable positions: 19 slots
XmARK Functional Trainer is a heavy-duty functional trainer that provides the best combination of weight capacity and stability. It is a better choice than Inspire FT2 Functional Trainer if you look for more weights for a versatile exercise and unlimited positions.
It provides true isolateral movements and with its 2:1 resistance ratio. This impressive ratio lets you do multiple positions and targeting of different body muscles. The split-grip pull bar provides enough utility for performing a chin-up and pull-ups for cardio or warm-up.
This Xmark Functional Trainer cable machine's right side is its weight capacity of 200 pounds and a diverse pulley system that provides 19 settings. These settings have 3.5 inches of space so that you can adjust anywhere from your comfort level to the extreme levels.
The main thing that triggered us about this functional trainer machine is its best weight to price ratio. Most other weight trainers are double in price with the same weight capacity. Overall, its wedge shape, stable body, and variety of accessories give it an advantage over other functional trainers.
Pros
1. It takes less space with its uniquely designed V shape body
2. Powder coat finish provides it a durable and premium touch
3. Great range of adjustability up to 19 heights
4. One of the highest weight stacks for powerlifting
5. Iso-lateral movements provide more range of motions

Cons
1. Increased shipping costs due to its heavier weight
2. Weight stacks are not upgradeable

3) Body-Solid BFFT10R Functional Trainer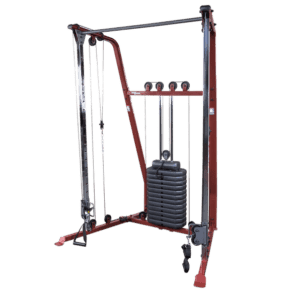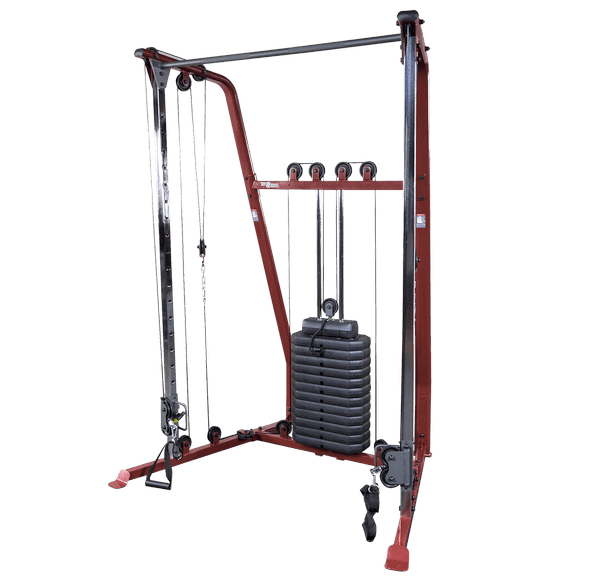 Key Features:
GTIN: B0063NCDLM
Weight stacks: Single 90 pounds
Dimensions: 83.5 x 55 x 61 (HxLxW)
Attachments: Chin bar, straps, triceps ropes
180-degree swivel pulley
Warranty: A 3-year frame and 1-year parts
Body-Solid BFFT10 Functional Trainer is a cable crossover alternative as it provides the same functionality that we have seen in Xmark and FT2 Functional Trainers at a lower price. If you are looking for a cheaper and viable functional trainer, this is the best option.
This functional Trainer has a swivel pulley system that gives a 180 degrees workout angle besides its price point. You can pull out some serious workouts within this range and do unlimited positions for your fitness routine.
BFFT10R has a better weight capacity than Inspire FT2 as it features a 190 pounds weight stack that is 10 pounds increase. Unlike other gym cable machines, it features two nylon cable handles that are adjustable and provide a range of motions.
We are impressed with the body solid functional trainer due to several reasons. It is a much cheaper and viable option for weight training than others on our list. Besides this, you can add equipment like cable attachments and upgrade more weights later. Roger Black Treadmill
Pros
1. Cheapest functional Trainer with a good range of options
2. Swivel pulley movement for a variety of workouts
3. Highly durable body and sturdy construction
4. Smooth pulley movement
5. Assembly is straightforward and takes less time than the competition

Cons
1. Weight stack resistance is minimal
2. No additional weight stacks

4) FreeMotion Dual Cable EXT Crossover Trainer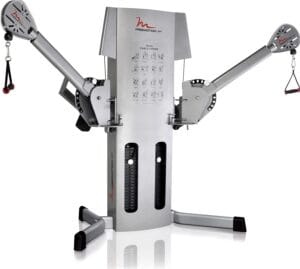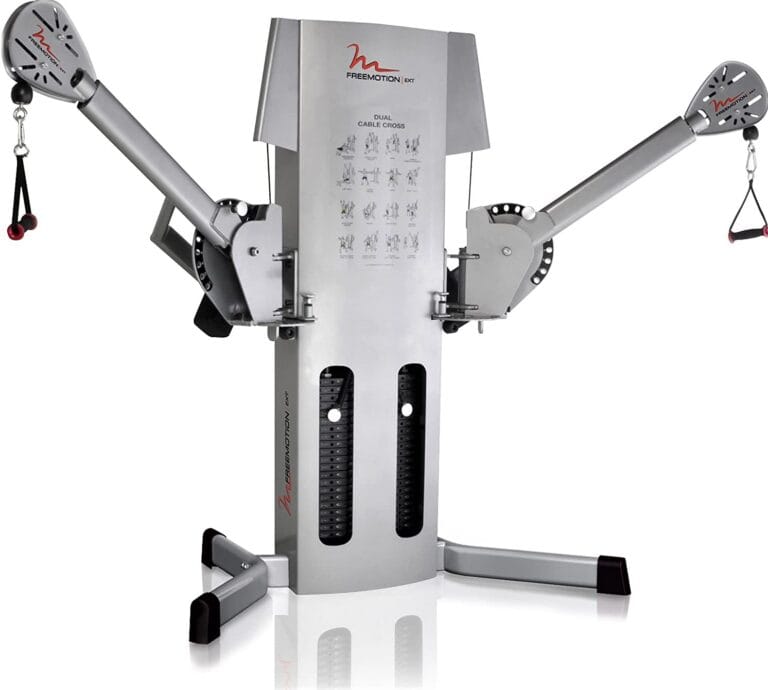 Key Features:
GTIN: B077VRYGP4
Material: Powdered coated steel
Weight stacks: Dual 70 pounds
Dimensions: 60 x 113 x 84 inches (LxWxH)
Warranty: Lifetime frame and a 10-year frame
Free Motion Dual Cable Crossover Trainer is a unique functional trainer due to its 3 pounds weight increments. If you are a beginner and trying to grow steady and slowly for a more muscular body, then the Freemotion cable machine is the best option due to its smaller weight increments.
It has a sturdy and well constructive body with 7- and 1-gauge steel tubing. Freemotion light commercial ext dual cable cross supports the addition of extra weight due to its durable body. You can add up to 350 pounds of weight, an impressive number for a free motion weight machine.
The versatile design of Freemotion functional trainers withstands the wear and tear of frequent heavy use. It provides an optimum exercise due to its well-designed system. The vertical rotation of 12 inches and 9 inches horizontal settings gives a window for unlimited movement patterns.
We like this plate-loaded functional Trainer due to its weight versatility of targeting any muscle group for providing a better overall full-body workout. Its 3 lbs weight increment makes sure that you can gradually increase the weights with almost no resistance.
Pros
1. Versatile and long-lasting design
2. It is best for strength exercise that involves standing posture
3. Ankle cuff offers a secure and comfortable placement
4. Angled movement for arms that gives a variety of motion

Cons
1. It isn't easy to move due to heavier weight
5) HCI Fitness PTX Gym Folding Functional Trainer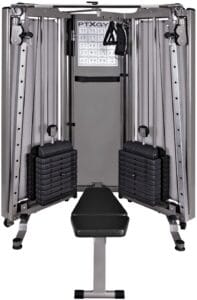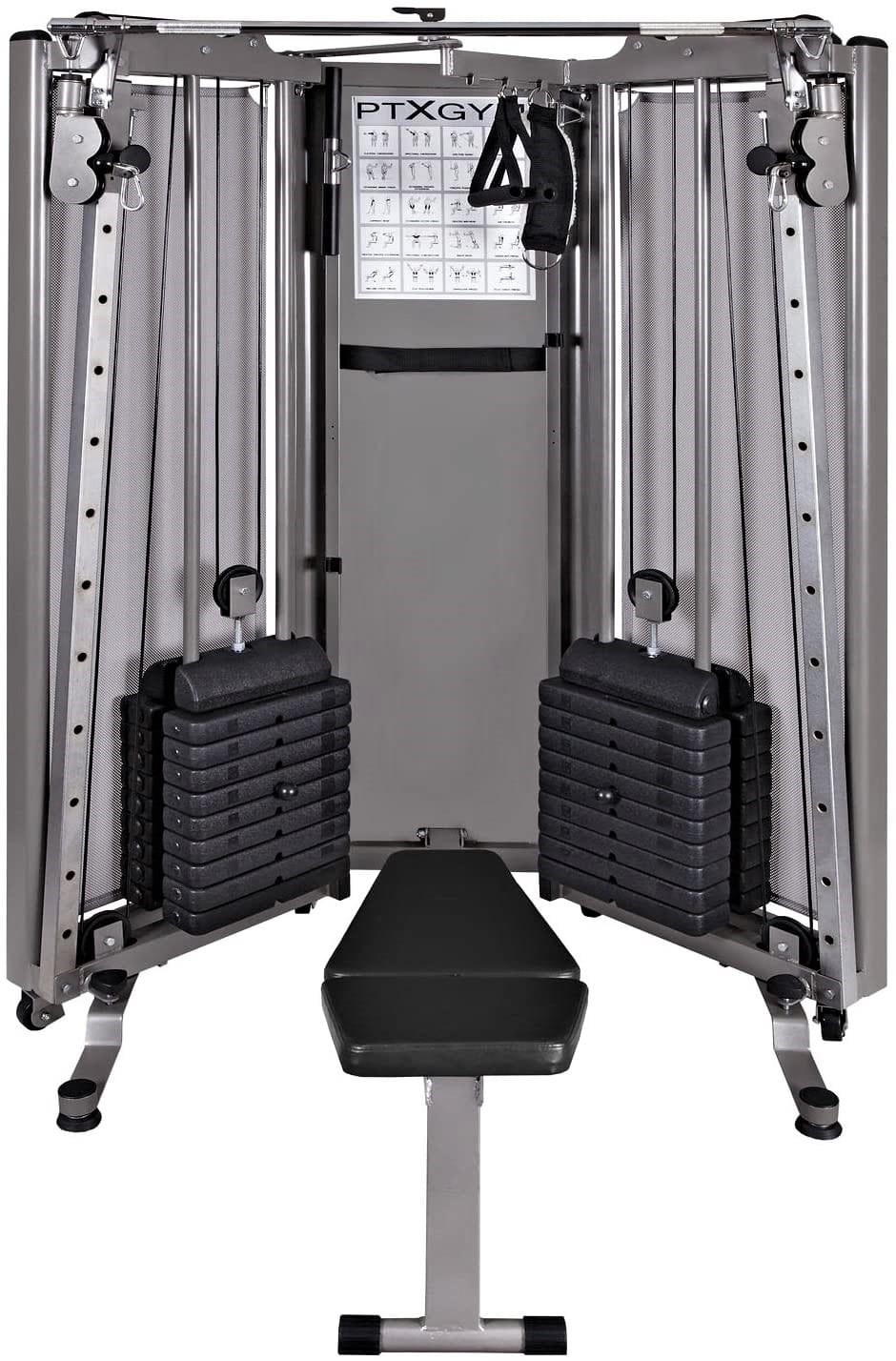 Key Features:
GTIN: B00CMJCYP6
Weight capacity: 220 pounds
Dimensions: 24 x 20 x 73 inches
Attachments: ankle strap, triceps rope, straight bar, D-ring hand grips
Adjustable bench for versatility
Warranty: Lifetime for frame and welds
HCI Fitness Gym Folding Functional Trainer is one of the best functional trainers that fulfill the exercise needs in a compact space. It is better than all the trainers that we reviewed above for its compact design. You can fit it anywhere in your house and without having concerns about the low ceiling.
This compact cable machine is a combination of cable trainers and a weight bench making it a good bench press cable machine. The fold-up bench and a hefty weight stack make it a super choice for the home gym's best cable machines.
Besides the weight bench with cables, it has a 220 lbs weight capacity. You can utilize these weight stacks for a variety of exercises and convert them into free weight. You can put more effort into utilizing its compact design and bench for a better workout routine.
We like this cable machine for its compact size, and you can shrink it up to 60% due to its foldable design. It is the best cable machine for a home gym if you have a tighter space or have a low ceiling.
Pros
2. Fold-up design for an easy placement
3. Impressive weight capacity for a variety of workouts
4. Included bench press for lateral movement
5. Very smooth cable movement

Cons
1. Difficult to make full range motion for tall people
Benefits of Functional Trainers
Full-Body Workouts:
Functional trainers are versatile and one of the best gym accessories for doing full-body and cardio workouts. They provide full range motion that increases the core strength. You can target any part of the body to get toned and increase its endurance.
For example, if you want to target the triceps, you can utilize the triceps ropes to target the muscles effectively. And if you need upper body strength, you can use EZ or long bars for better muscle targeting. Even they offer pull-ups that can increase core body fitness.
Increase the Muscle Mass:
There is a general misconception about functional trainers that they are not useful for building muscles. It is not true as muscle growth links with the amount of tension you give during the exercise. In cable machines, they provide a continuous well-balanced tension to the muscles that increase muscle mass.
It may be true in some cases that muscle mass does not build upon the functional trainers. But it only happens if you target the larger group of muscles. For getting a good muscle mass, you need to target the right muscles
Alternative to Gym Membership:
Most people need a gym membership to get body toned and getting rid of extra fat. Functional training provides a full body workout that minimizes the need for a gym membership. You can invest one time in them, and they provide a great alternative to the gym equipment.
Related Post: Body fat percentages actually look like
Buying Guide for Best Functional Trainers
When investing in purchasing the best functional trainers, keep in mind these crucial things:
Weight Stacks:
Weight stacks are an essential part of functional trainers as they manage the functioning and weight distribution. For a full-body cable workout, weight stacks improve the movements and provide a range of motion. When choosing functional trainers, make sure to select the weight stacks that fulfill your workout needs.
Cable Length:
Cable length matters a lot for getting the range of motion of the cable trainer. The cable's length should be enough to let you make crossovers, freewheeling movements, power lunges, and weighted sprints. Shorter cable lengths limit the motion and steps that you can do during the workouts.
Smooth Motion:
Don't confuse smooth motion with zero resistance. It means an even motion that lets you do workouts without jerks in the middle of the movement. Having a smooth resistance makes sure that your efforts are targeting the right muscle group and motion goes smoothly.
Size:
The functional Trainer's size directly links with the number of benefits you can take from it. If the size is not enough according to your body height and workout needs, it limits the movement and benefits you get from cable trainers. Always choose the best cable crossover machine according to your height, type of workout, and placement.
Pull Up Bar:
Pull-up bars with different grips make it possible to lift strain out of your wrists. A sturdy steel pull bar ensures a stable and balanced workout. Choose the pull-up bar with an even balance from the weight stacks; otherwise, it affects the motions, disturbs the joints, and can lead to future injuries.
Attachments:
A cheap cable machine can compromise the quality and quantity of the attachments. Most of the functional trainers come with handles, triceps rope, long bar, short bar, and EZ curl. Always prefer the attachments that suit your exercise needs.
Warranty:
Any good functional trainer can be an expensive choice, but at the same time, they provide good customer support and a lifetime warranty. Many providers give at least a 10-year frame warranty and a 2-5 years parts warranty. Although the best functional trainers are sturdy and durable, still good warranty coverage ensures peace of mind.
Assembly:
Assembling the functional trainers can take hours, and most manufacturers provide the manual for assembling them. The instructions are simple, and parts have labels that make the installation easy. Choose the functional trainers with easy installation or provide manuals with them if you are not super comfortable working with tools.
Best Functional Trainers FAQs
Is investing in functional trainers worth it?
Functional trainers are highly versatile pieces of equipment. They are the best trainers for assistance training and doing resistance exercises. Besides this, they provide a great range of motion, and you can do a full-body workout with them to target every muscle of the body.
How to use cable in functional Trainer?
It needs a perfect alignment with the functional Trainer to get the best out of its cable system. For this, step back almost an arm's length and place the cable pulley parallel to shoulder height. Now pull the handle by gripping it firmly towards your body while keeping the body straight. Slowly return it without making any jerking movement and then repeat the motion till desired reps.
Does using functional trainers build muscles?
Functional trainers are suitable for the overall body function and core strength, but they also improve the muscles' endurance and strength. You can tone your muscles against balanced and stable exercise, which ultimately improves muscle stamina and efficiency.
Do training on functional trainers burn fat?
Functional trainers provide many exercise variations for the whole body. They not only improve core fitness but also help reduce body fat. Intensive exercise on the functional trainers burns calories faster, and you can utilize them for controlled movement for recovery from an injury.
Summary
Cable crossover alternative or best functional trainers are providing intensive workouts and targeting specific muscle groups. They provide core fitness and improve strength with multiple workout options. Due to the unlimited possibilities of the exercises, they are one of the versatile pieces of equipment. Choose them according to your exercise needs and the functions they offer.