If you want to build up strong calf and thigh muscles, the best leg press machine is the right equipment for you. It is suitable for building up the muscles and increasing the leg muscles' endurance due to its robust mechanism. 
Leg press machines are often referred to as the safest method for leg workouts. They help build up each part of the leg, primarily target gluteal muscles, hamstrings, quadriceps, and calves. Due to their positive effect on the legs, these are widely using worldwide.
To improve the leg mass and strength, you need enough weight on the leg press machine to offer a challenging workout to the legs. The best leg press machine for home gym breaks the muscles and rebuilds them in a strong form. 
Top Picks for Leg Press Machine
If you need a heavy-duty leg press to build muscular calves and thighs, Bodycraft F660 Leg Press is the best choice. It can add up to 1000 pounds of weight to give you a challenging workout for lower body exercise. There are five inclined positions for the leg press, which provides a great range of motion.
But if you want more hip flexion and leg movement, then Powerline PVLP156X Vertical Leg Press is the right option. It is the best leg press machine for glutes as it targets them more intensely than the standard horizontal leg press. You can try unlimited variations and range of motions for more leg and hip flexion than the Bodycraft F66 Leg Press machine. 
Top 5 Best Leg Press Machine for Workout
1) TDS 4-Way Hip Sled Leg Press Machine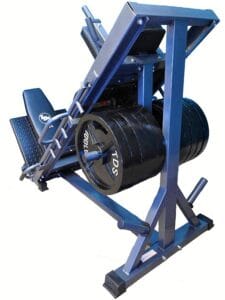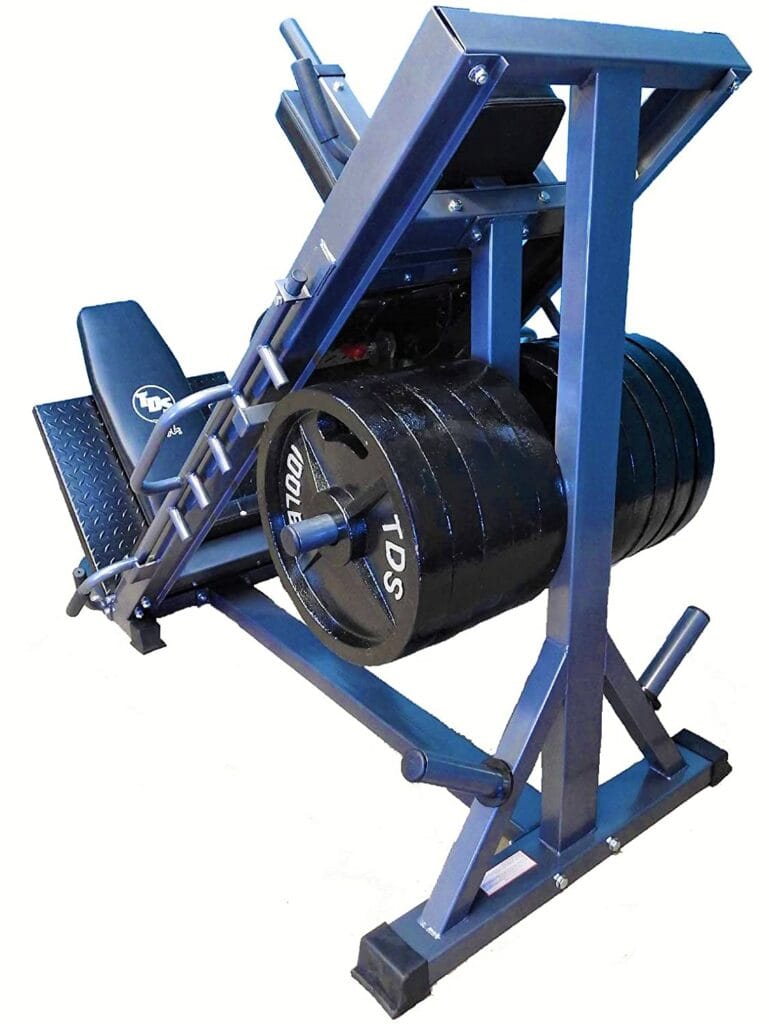 Key Features:
ASIN: B07FPS8LSF
Material: Steel body
Item Weight: 300 Pounds
Weight Capacity: 1000 lbs
Dimensions: 37 x 80 x 52 inches (WxDxH)
Type: Inclined
Safety Stops: Yes
Inclining positions: 3
Warranty: Lifetime
TDS 4-Way Hip Sled Leg Press is the best type of leg press machine that gives a different range of leg exercises, including forwarding thrust, calf raise and hack squat. The steel tube construction and solid steel deck plate offer a well-balanced leg workout. You can cover all the leg day exercises with its practical design. 
It has a well-constructed steel body that ensures a durable and stable build. The 1000 pounds weight capacity is impressive and gives you more horizon to unlock your journey towards stronger and bulkier leg muscles. The weights do not come with the purchase, so you can add weights gradually as you progress and push your limits.
TDS has an adjustable design for the platform that increases the range of motion. With its secure lock mechanism, you get protection from any mishaps. The sled on this best price leg press machine has perfect angles to get better and stable grades for calf raise.
We have liked the weight capacity, a wide range of applicable positions, and adjustable platform in the TDS Leg Press Machine. However, if you are looking for more incline positions, Bodycraft F660 Leg Press is a better choice.
Similar Products: Best Vibration Machine for Weight Loss 
Pros
1. Adjustable platform angle for effective muscle targeting
2. It has safety lockouts for stable and secure training
3. It is best for users of all height and body type
4. The four-way hip sled makes leg and hip muscles in more muscular shape
5. Easy to assemble and very simple to learn

Cons
1. It has no Olympic weights with the purchase
2. Base wobbles when doing hack squat on heavier weights

2) Body-Solid GLPH1100 Leg Press Machine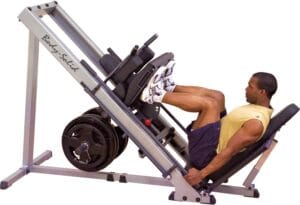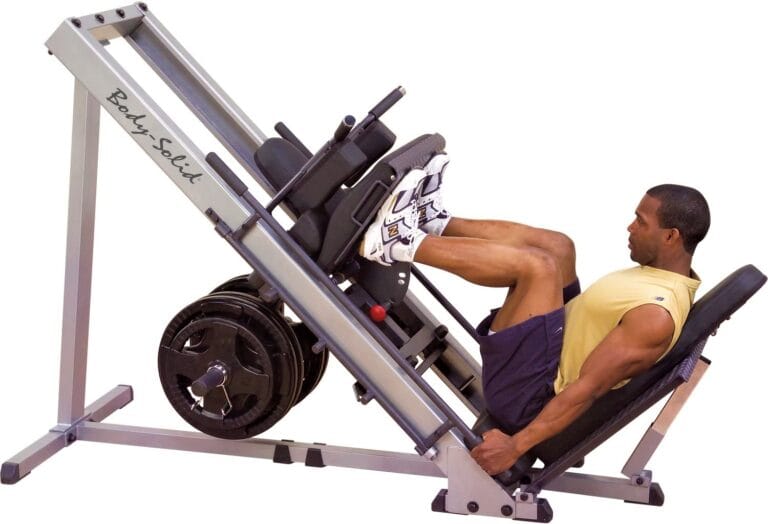 Key Features:
ASIN: B0028O9ADE
Material: Steel
Item Weight: 330.69 Pounds
Weight Capacity: 1000 lbs
Dimensions: 83 x 34 x 56 inches (WxDxH)
Type: Inclined
Inclining positions: 3
Mechanism: Quad-track roller system
Warranty: Lifetime
Body-Solid GLPH1100 Leg Press Machine is the best leg press machine for home on which you can rely for a safe workout session and efficient adjustability. It has a great adjustable back support that sets in a way not to let you feel any discomfort while lowering the weights close to the body. This machine workout has excellent security features of bar resides to grab when doing leg training.
The foldable footplate makes it easy to switch between different exercises. Besides its foldable design, you can remove it out for trying other exercises. The 1000 pounds weight capacity, along with the risk-free session, provides a user-friendly session. The built-in side rails on the Body-Solid Leg Press machine can hold the weights and keep them in place. They ensure a proper weight hold when you are not ready for the exercise or waiting between the sessions.
What makes Body-Solid GLPH1100 the best compact leg press machine is its smaller footprint. When we compare it with other machines, it stands out for being ideal for smaller room space. Moreover, the sturdy and durable body makes sure that it meets the user requirements without any barrier. The lifetime warranty is icing on the cakes and provides user satisfaction and trust in the product. 
What we liked about the Body-Solid GLPH1100 leg press machine is its value to the money. It fulfills the need for a durable and heavyweight and keeps you comfortable during the workout sessions.
Pros
1. It is the best hack squat leg press machine.
2. Ergonomic design with thick padding keeps you comfortable when lifting weights.
3. A perfect leg press machine for taller people
4. It has three lockout positions that minimize the risks of injury during workouts.
5. Best value to money leg press machine

Cons
1. The narrow footplate can limit the use for people with big feet
2. Assembly needs a handyman to set this machine up

3) Bodycraft F660 Leg Press Machine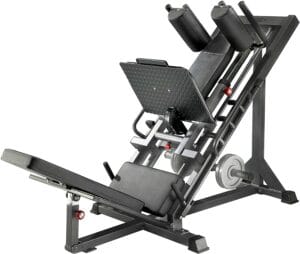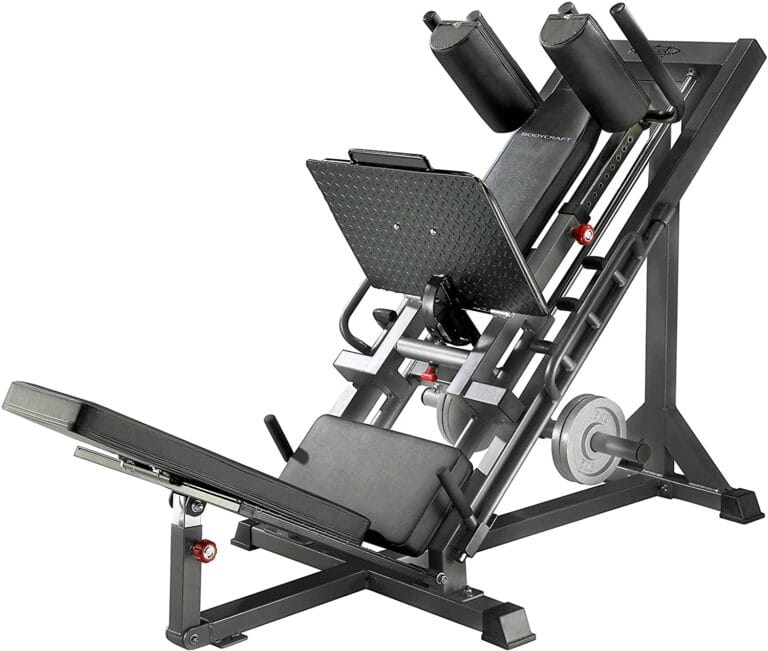 Key Features:
ASIN: B000SZVTFW
Material: Heavy-duty steel
Item Weight: 378 Pounds
Weight Capacity: 1000 lbs
Dimensions: 79 x 39 x 50 inches (WxDxH)
Type: Inclined
Safety Stops: Yes
Inclining positions: 5
Warranty: Lifetime
Bodycraft F660 Leg Press Machine is the best equivalent to the commercial leg press machine due to its heavy mainframe constructed with heavy-duty steel. The stability and durability of the thick steel tubing protect your well-invested money. No matter what intensity level you use, its ergonomic design keeps you comfortable and provides consistent performance.
There are different ways to use a leg press machine; Bodycraft provides almost all the best variations. You can choose from four fitness exercises: the famous hack squat, calf raise, the donkey squat, and classic leg press. 
You can start from a base weight of 75 pounds and can add progressively to 1000 pounds. This considerable weight bracket makes it equally suitable for people of all body structure and weight demands. Another exciting feature of the Bodycraft leg press machine is the five angle variations that stand out from the competition and make it a versatile piece of equipment.
Bodycraft F660 Leg Press Machine is our top pick for the best horizontal leg press machine due to its sturdy and durable bodies with five adjustable incline positions. These features make it suitable for every individual in your family.
Pros
1. It has adjustable shoulder pads that are best for people of any height
2. The footplate is flexible and helps to generate different types of presses
3. Inclining angles make it easy to target various muscle groups
4. Its compact design ensures space-saving

Cons
1. Relatively expensive options than other leg press machines
4) Powerline PVLP156X Vertical Leg Press Machine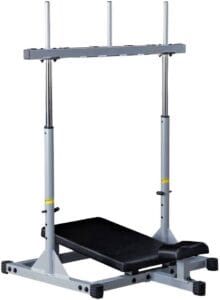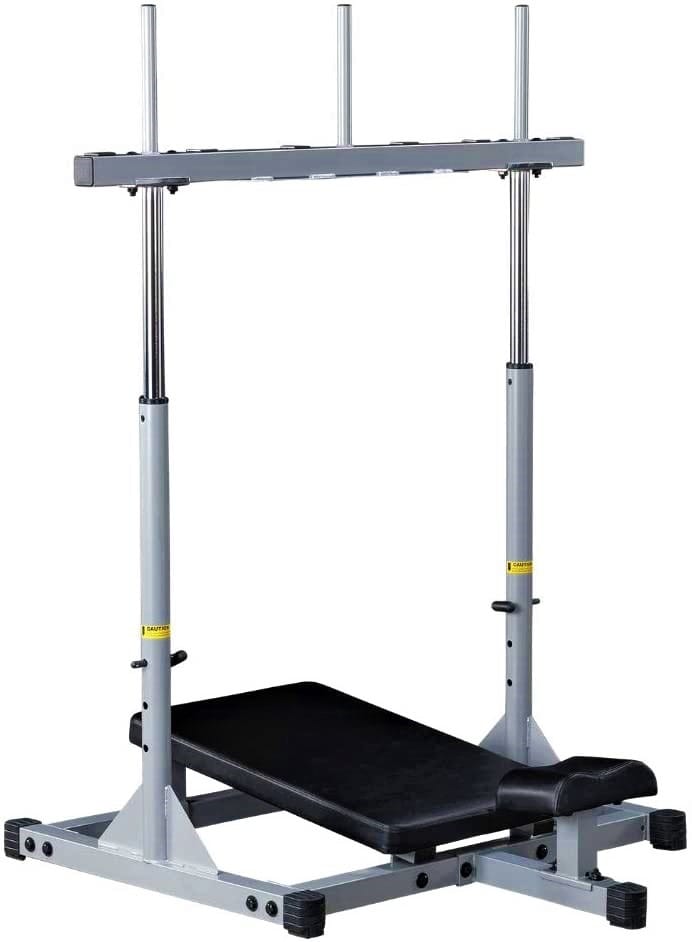 Key Features:
ASIN: B000UZJJMA
Material: Steel body
Item Weight: 92.59 Pounds
Weight Capacity: 400 lbs
Dimensions: 61 x 46 x 48 inches (WxDxH)
Type: Vertical
Foot Plate: Non-Skid
Warranty: 1-year for parts and 10-years frame 
Powerline PVLP156X Vertical Leg Press Machine is the best vertical leg press machine and has a compact design to fit into any home gym space perfectly. This vertical machine is a better alternative to the horizontal where space is the issue. Even with the compact size, you can utilize it for a variety of leg exercises.
However, this compact vertical design has a limitation in that it only has a load capacity of 400 pounds compared to other models like Powertec Fitness Leg Press. Most people won't notice the difference as vertical models usually own the most challenging workout patterns. 
Safety on this relatively cheap leg press machine is top-notch and guarantees an anti-slip model during the workout due to three safety positions. It does not matter how heavy you lift on this vertical press machine as the seats are well-padded and comfortable.
We like these vertical leg press machines due to their lower cost and almost equal utility to other machines. You do not need to spend money on expensive choices and still can get more muscular legs with this compact vertical leg press machine. 
Pros
1. An affordable leg press machine
2. Occupies less space due to its vertical and compact build
3. Anti-slip diamond steel footplate guarantees the slip-free foot placement
4. Lockout positions ensure safety even with heavier weights
5. Sturdy and excellently welded parts for long-lasting acquisition

Cons
1. Less weight capacity than the competition
2. No provision of safety levers to hold on during workouts

5) Powertec Fitness Leg Press Machine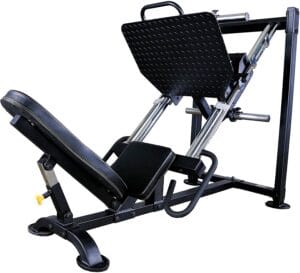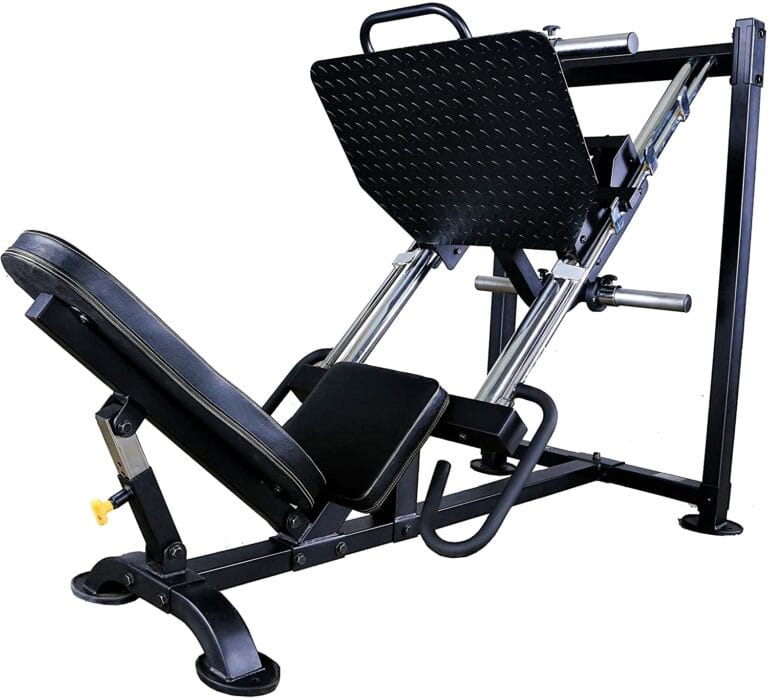 Key Features:
ASIN: B01K49T282
Material: Steel body
Item Weight: 259 Pounds
Weight Capacity: 1000 lbs
Dimensions: 62 x 42 x 81.5 inches (WxDxH)
Type: Inclined
Safety Stops: Yes
Inclining positions: 3
Mechanism: Quad roller system
Warranty: Lifetime for frame
Powertec Fitness Leg Press Machine is last on our list, but it does not mean that it is not a good one. It competes for head to head with our top pick Bodycraft F660 Leg Press Machine. It is one of the best-seated leg press machines due to its smooth gliding operation and a powder-coated steel body.
You can never expect less from Powertec as it has a reputation for producing a good gym equipment lineup. This leg press machine is no exception in this regard. Overall it has a solid steel build that ensures a more robust and durable body. It can lift to 1000 pounds to help you develop massive muscles.
We were amazed to see its carriage system that ensures an equal weight distribution on either side. So you don't need to worry about imbalance when lifting heavier weights as uniform distribution prevents you from injury. A 2-inch high-quality foam on the seat further reduces fatigue and lets you sit comfortably during the workouts.
We have liked Powertec Leg Press Machine due to its comfortable seating and durable body. The cushioning on the seat is so good that it provides a nicely shaped place to sit and increases the lower body's strength. 
Pros
1. Durable powder coated and scratch resistant steel body
2. The high-density foam ensures a thick seat padding
3. Quad track roller offers a uniform weight distribution on both legs
4. You can utilize this leg press for different exercises like calf raises

Cons
1. Assembly instructions are not clear and need assistance.
Benefits of Leg Press Machine
Since legs are the most powerful muscle in the body, they should be strong enough to get you through daily life. However, if you are a gym enthusiast, you probably want bulky and strong legs. Many gym trainers recommend the best leg press machine for focusing on building the legs muscles.
We all know that doing leg day is one of the most boring days for most people, but neglecting and skipping the leg day can lead to an imperfect body. A top-heavy body and a weak lower body degrade overall body aesthetics, and in gym circles, we commonly know it as "chicken legs."
Besides many leg press machines' health benefits, we have listed the top 4 benefits you may want to look into.
Prevent Injuries:
Doing exercise with heavy weight can lead to injuries as they strain lower body and back muscles. The best leg press machine is a safe alternative to squatting as it supports the lower body and back. This support eliminates the probability of getting an injury. 
Most leg press machines let you adjust the position and add and remove the weights to do the leg exercises in your comfort zone. They also provide you with increased comfort due to their ergonomic design and cushioned back and seat.
Target Quads:
Traditional exercises and squatting need great precision to target specific muscles, especially the quads. The best leg press back squat machine improves your leg press properly and easily achieves the pushing motion. 
The motion flow on the machine is very uniform, helping you focus the pressure point on the quadriceps. It does not matter that either you are doing upward or downward movement. These machines put the load on the quads, helping develop thick and string thighs quickly.
Improve Body Balance:
The uniform motion of the best commercial leg press machine enables you to target any muscle group on the legs. You only need to change the feet position slightly to target the desired muscles. This way, the leg press machines help you achieve optimal body balance and improve the lower body's core strength.
Target Calf Muscles:
A leg press trains the calf muscles more than a calf raise machine. You can adjust the load and place the ball of the feet and adjust it accordingly to generate the targeted calf muscle motion. It not only targets the calves but also improves your ability to lift heavier weights.
Buying Guide for Best Leg Press Machine
Before buying the best home leg press machine, a market evaluation and research are better to spend your hard-earned money. If you lack the information regarding purchasing the best leg press machines, don't worry; we got your back. Keep in mind these features before buying the best leg press machine for sale.
Quality: 
The leg press machine's quality is the most critical feature when you opt to buy a leg press machine for your home gym. As they help you lift nearly 1000 pounds of weight on your legs, a comprised quality can cause serious issues. When buying, look for a 10-gauge steel material machine with a pipe diameter of at least 2 inches.
Exercise Flow:
Exercise flow keeps your muscles engaged and well-bounded for better leg training. When a leg press machine offers a continuous flow of movements, you can target the muscles more efficiently. If you have ever done a power lift using your legs with a leg exercise machine stuck in the repetition, you already know how vital exercise flow is. Make sure to buy a machine that operates smoothly and uses bearings in the gliding track to better exercise flow. 
Space:
Most of us have limited space for placing gym equipment at home. Space is a critical point in deciding on a leg press purchase. If you have plenty of space at your home gym or garage, you can go for bulky and heavy-duty leg press machines. The vertical leg press is more feasible in an area where there is less space for the equipment. In addition to the room for placement, you need more space to move around the press during intervals.
Weight Capacity:
If you have plans to add heavier weights to the machine, weight capacity is essential. The best leg press machine varies from a weight capacity of 500 lbs to 1000 lbs. Make sure to choose 1000 lbs machine over lower if you plan to go on a more extensive weight soon. 
Price:
Each price bracket has a good quality leg press machine. Before making any choices compare the products in your range and always select the best leg press machine in budget. However price tag alone does not define the purchasing decision. You have to keep in mind other important factors too before buying the best one.
Best Leg Press Machine FAQs
Does a leg press machine hurt the knees?
Leg press machine does not cause injury to the knees until you overload it with the heavier weights and use it poorly. Any weight-bearing machine can cause damage to the joints and legs if operated improperly. The best approach is to start with the lighter weights and gradually upgrade to higher weights by listening to your body.
How much does a leg press machine weigh?
The leg press machine weight differs from brand to brand and even model to model. If we take the weights and body into account, they can vary from 400 to 1000 pounds. For example, Powerline PVLP156X Vertical Leg Press weighs only 400 pounds while Bodycraft F660 Leg Press can reach 1000 pounds with the weights. 
Are vertical leg press machines good for leg muscles?
Vertical leg press machines are suitable for building leg muscles. They occupy less space and are economical compare to the horizontal leg press machines. However, they only weigh 400-500 pounds that can be an issue for people like heavier weights for workouts. 
What Muscles Do Leg Press Machines Work?
Leg press machines engage all the muscles of the body for maximum strength. You can target any leg muscles with them by properly balanced exercises. They work the glutes, quadriceps, calves, and hamstrings effectively. These muscles are essential for maintaining the balance and posture of the body. Furthermore, they improve the core to soothe the joints and lower back pain.
Summary
For gaining leg muscles and improving their strength, a leg press machine is the most effective way. Buying them is a critical decision and requires you to consider all the options you need, like the design, pricing, durability, and weight capacity of these machines. You can select any best leg press machine that qualifies your need and has a solid and durable frame.