You are not alone if you are here because you search David Goggin's workout routine. He is one of the most famous personalities in the world and the inspiration of many people. He is a retired U.S. Navy SEAL, a great author, and a motivational speaker. Moreover, David Goggin, at its core ultra-distance cyclist, an ultramarathon runner, and a triathlete.
He was born on February 17, 1975, in New York City. Although he had heart complications and asthma, he completed his Navy SEAL training, Air Force Tactile Control Training, and Army Ranger School with all of these problems.
His achievements did not stop here. David Goggins also served in Afghanistan and Iraq during his Army stay. He has broken many records in athletics and completed the two hell weeks during the training of Navy SEAL, which is not an easy task. All of these achievements make him famous, and that's why he is known as "The Toughest Man Alive."
David Goggins Workout Pre Navy Seal
Motivation is not the only thing to achieve the goals of life. If you want to become successful, you must focus on your aims. Many people are now complaining that they cannot focus on their target. If there is no desire to achieve any goal, your work will not succeed. So, it is crucial to set your mind according to your aim and then work for it with all of your intentions because success depends on motivation and purpose.
In the early 2000s, when David Goggins was 24 years old and worked as an exterminator on night shifts in a factory. He loved chocolate shakes and burgers, and as a result, his weight reached 300lbs. but for his goals, he lost his weight up to 106lbs. He worked a lot for this and did throw himself self-describes training and nutrition plan, and after this, he lost his weight only in 3 months.
David Goggins Workout Overview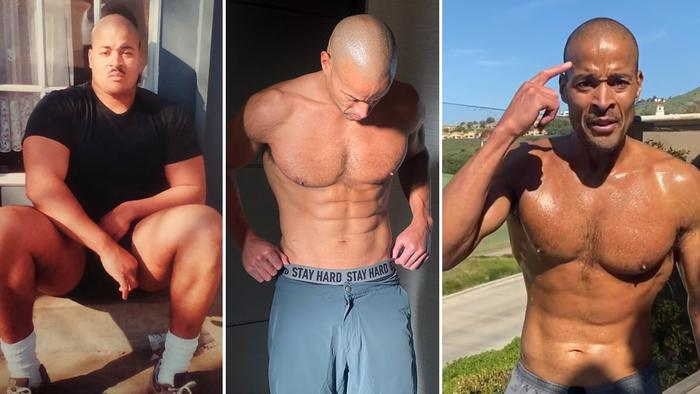 For his health, body, and mind, he works out daily. This workout keeps him sharp and fits his daily routine. Like the other athletes, he also wakes up around 3 to 4 am and goes for a 10 to 15-mile run. After this, he takes a quick shower and rides his cycle for 25 miles to the workplace.
If he rides his cycle 25 miles to his workplace, he comes back home by bike at the end of the day, so these are 50 miles per day.
In David Goggins's view, stretching is significant to maintain the body, so he does this to its max limit. He stretches for 2 to 3 hours in the morning and follows this crucial workout routine.
There is the daily routine of David Goggins:
Running: David Goggins runs almost 10 to 15 miles in a day.
Biking: David goes to his workplace and comes back home on his cycle, traveling the distance of 50 miles.
Lifting: He performs his lifting workout for an hour in the morning and about half in the evening.
Stretching: To relax his muscles and abolish the chances of injury, Goggin spends 2 to 3 hours stretching.
Train Everyday: he workout out faithfully daily to ready himself for triathlon events.
David Goggins Workout Schedule
He follows a strict schedule for his daily workout, and a healthy mind and rigid body are required for this routine. You can consider that he only eats, sleep, trains, and repeats daily. This routine is hectic, but Goggins faithfully replicates it with great courage. He daily challenges his mind and body for this tough physical fitness.
The David Goggins workout everyday consists of the following routine:
He woke up from 3:00 to 4:00 am
He runs for 10 to 15 miles at 4:00 am
Then he goes to his workplace on a cycle up to 25 miles at 5:00 am
At lunchtime, 11:00 am, he ran again
After his work, he came home on his bike, riding 25 miles
In the evening, after reaching home, he reruns 3-6miles.
David Goggins Workout Routine
If you wonder how often does David Goggins workout? He follows the routine work for his physical health. It makes him fit in different aspects, such as giving him flexibility, improving his stamina, increasing endurance, and overall fulfilling all the requirements of an athlete.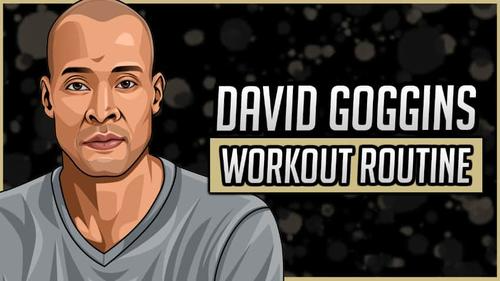 David Goggins's workout routine is divided into various segments that are the following:
Core Routine
Cardio Routine
Full-Body or Powerlifting Workout Routine
Bodyweight Workout
1) Core Routine
Core strength for anybody is essential. If you are weak from the core, you will not get a muscular body. That's why David Goggins stresses core strength, and it is also the best way to get endurance sports. So, he focuses a lot on the strength of his core and abs.
He suffers from heart problems, but he swears by a lot of cardio work, which will help him lower his heart rate to 32 beats per minute.
For his core strength, he does four different exercises with three sets. And here is the routine of David Goggins:
2 sets with 25 reps of Swiss-Ball Obliques
4 sets of 10 reps Russian Set-Ups
3 sets with ten reps V-Ups
3 sets with ten reps Broomsticks Oblique.
2) Cardio Routine
He completes a lot of biking and running for this cardio routine. From this routine, his heart rate remains well. David Goggins' cardio routine look like this following:
10 to 15 miles running
25 miles biking daily
Running 5-8 miles during lunchtime
Biking 25 miles after work for home
In the evening, 3 to 5 miles of running
3) David Goggins Powerlifting
As David Goggins hates swimming, cycling, and running, he feels comfortable while lifting weights. When he was in the military, he loved to spend time in the gym and lift weights. Due to this workout, he becomes a hulk and has a massive body and muscles.
But due to endurance sports like triathlons, he only lifts weights for 90 minutes before going to bed at night after dinner. He remains careful about weight lifting because his only purpose is to make his body healthy, not bulky. But still, he ensures that it will be a demanding workout so that he can push his body to the limit.
When it comes to weight lifting, moderation is vital to becoming healthy. So as David Goggins's powerlifting routine remains moderate, he does not lift the weights daily. He only does this four times a week, and the other three days let his body become relaxed, and muscles heal and grow.
Chest Workout
Bench press – 15 reps, 5 sets
Dumbbell press – 15 reps, 5 sets
Chest press – 15 reps, 5 sets
Cable cross – 15 reps, 5 sets
Dumbbell flyers – 15 reps, 5 sets
Back Workout
5 sets Deadlift (15 reps)
5 sets Lat pulldown (15 reps)
5 sets of Cable rows (15 reps)
5 sets Close grip lat pulldowns (15 reps)
5 sets, Back lat pushdowns (15 reps)
5 sets, One-arm dumbbell row (15 reps)
Arms Workout
5 sets of Bicep curls (15 reps)
5 sets of Barbell Curls (15 reps)
5 sets of Triceps kickback (15 reps)
5 sets of Triceps extension (15 reps)
5 sets of Triceps pushdowns (15 reps)
5 sets of Preacher curls (15 reps)
5 sets of Isolation curls (15 reps)
5 sets of Skull crusher (15 reps)
Leg Workouts
5 sets of Leg press (15 reps)
5 sets of Squats (15 reps)
5 sets of Leg extension (15 reps)
5 sets of Leg curls (15 reps)
5 sets of walking lunges (15 reps)
5 sets of Stiff-leg deadlifts (15 reps)
5 sets of Calf raise (15 reps)
4) David Goggins Bodyweight Workout
Goggins hits 5 different exercises on this bodyweight routine, including the notorious David Goggins pull up workout. Here is David Goggins' bodyweight workout routine:
Deadlifts with 3 sets (10 reps)
Pull-Ups with 3 sets (5 reps)
Squats with 5 sets (5 reps)
Lunges with 3 sets (12 reps)
Push-Ups with 5 sets (25 reps)
David Goggins Workout and Diet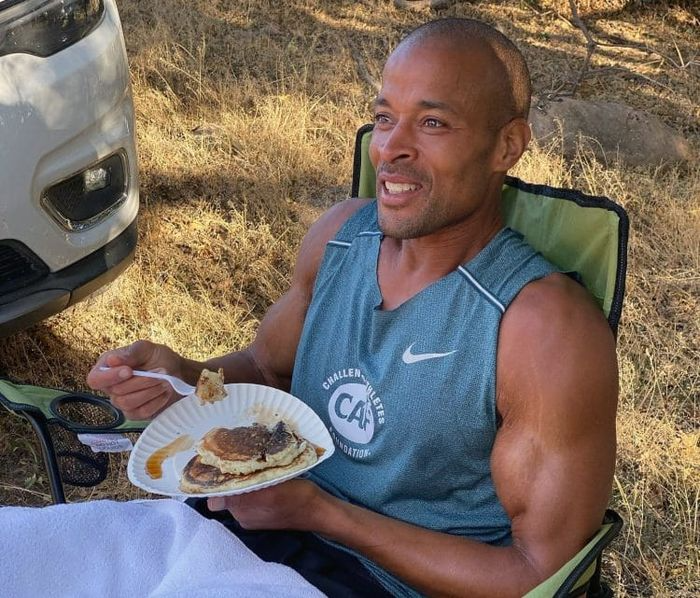 For this workout routine David Goggins follows a perfect diet plan. However, he is also famous due to his ketogenic diet, and this diet plan follows the daily dose of irregular fasting.
He strictly follows this plan, and in this keto diet, he allows for eating healthy fats and avoiding carbs as much as he can. However, this diet is essential for him in this workout routine because it works in many aspects. From this diet, he can lose weight, lower his blood sugar and insulin level, and provide him mental clarity, which is vital for his work.
David Goggins follows this proper keto diet and eats protein in his food. Mostly he takes his meal before 11 am and then skips his lunch and runs to burn his fats. Here is the diet chart of David Goggins:
1) During his Breakfast, he takes
2) For Snack time
3) In his Lunch
4) At the time of dinner
But here is a thing David Goggins change this diet plan according to his schedule and workout. You can understand that if he eats the above meal in a day, he will keep them in this order to fuel his body correctly during the workout the whole day. In this, his body will work in a good way and efficiently.
Foods He Avoids
It is good to remember that ketogenic food becomes severe when you cut all carbs and sugar. Goggins mostly says that he avoids eating fruit and starchy vegetables in his daily diet. He strictly avoids eating pasta, bread, cereals, and other junk food. He follows a plan when he is not on the keto diet.
Foods He Recommends
Now the question is that what is the diet David Goggins without carbs. That is impossible to have a meal without saturated fats and carbs. Here is their daily diet of David which includes various things in his meal, especially during famous David Goggins weight loss training:
Meat and poultry
Fish and seafood
Leafy greens
Plenty of cheese
Eggs
Butter and cream
Nuts and seeds
Healthy cold pressed oils
David Goggins Supplements
All of this information is about his diet and the food he eats in his daily routine. But it is also a fact that he is a human and cannot resist another delicious thing in life, so David Goggins takes his "cheat meals."
Moreover, he also takes some essential supplements with this diet plan for better results. These supplements provide him with extra nutrition for his body. We discuss all of these in the next section.
With this diet plan, David Goggins takes all of his vitamins and other minerals and completes his daily macro requirements from food. But sometimes, due to strenuous workouts and a strict diet, there becomes a shortage of food supplements. So, for the replacements, he uses some supplements that help his muscles grow better and overcome fatigue.
Here is the David Goggins supplements detail:
Whey Protein Powder: From these supplements, he gets enough protein for the body, and this is a leading supplement for any athlete.
Post-Workout Protein Formula: He uses this when he needs an extra punch of protein intake.
Multivitamin: You can get multivitamins from the food that you eat, and its requirement depends on your activity level. However, David Goggins has high activity level, and he lost a lot of vitamins and minerals in the form of sweating. It is also essential to refill them in other ways.
Caffeine: From having caffeine, you will feel that all of your senses will wake up completely. Goggins likes to have caffeine before a workout. He feels well during workouts and training. But he did not take too much caffeine, but sometimes he feels better as he perks up.
David Goggins Workout Challenges
David Goggins loves to challenge himself and set challenges for others. His push-ups challenge is very famous, but it is not so easy. David Goggins's workout challenges involve the following things:
17 push-ups every minute and on the minute for 60 minutes. Although this is a goal, most of us cannot do these 60 straight push-ups with 17 reps and a few seconds of rest. You may become tired and fail before you get 17 counts.
David Goggins Net Worth
David Goggins is a motivational speaker and an athlete, and the part of his most of his income comes from book sales and his YouTube channel. The net worth of his income is almost $4.5 million. The athlete has excellent stamina for achievement, and many other athletes support him for this trendy succeeded keen strength.
When it comes to training his body, David Goggins's workout is exemplary. He set his body with his strict and rigid daily workout. No doubt he spends several years training his body to this level. After long training and conditioning, his body and mind reach this position. However, we recommend you not follow the plan blindly as it is not suitable to do David Goggins's workout for beginners. It is essential to set goals and understand your body's type. As the same thing is not suitable for all body types, the supervision of experts is crucial in this regard.

Final Words