Who does not remember the famous Kevin James weight loss back in 2012? The famous American actor, film producer, scriptwriter, and The King of Queens started his career in 1989 as a stand-up comedian. He started from the lower level to become an accomplished artist in his field.
Kevin became famous when he starred in "The King of Queens," a CBS sitcom, where he played the role of Doug Heffernan. He became an international sensation by playing this role for the consecutive nine seasons of this series.
Kevin gained wider recognition when he played the role of an MMA fighter in the comedy film "Here Comes the Boom" back in 2012. He transformed the body for his role and gained Primetime Emmy Award nominees for his incredible dedication to the role.
Over the years, Kevin gained weight repeatedly, but he remained consistent in controlling his 302 pounds weight. In this article, you will learn Kevin James' struggle with weight loss, his family life, and his income and net worth.
Biography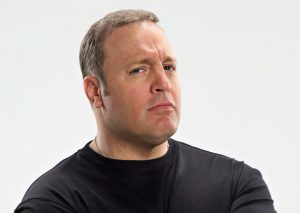 Name: Kevin James
Born: Mineola, New York, U.S.
Date of Birth: April 26, 1965 (age 56)
Father: Kevin George Knipfing
Brother: Gary Valentine
Wife: Steffiana de la Cruz
​Children: 4 (Sienna-Marie James, Shea Joelle James, Lennon Valentine James, Sistine Sabella James)
Occupation: Comedian, Actor, Screenwriter & Producer
Kevin James Weight Loss
Kevin has struggled a lot with his weight management and bringing it down. In the past few years, he shed and gain weight more often. The king of Hollywood comedy worked in CBS Network sitcom from 1998 to 2007 for nine seasons.
During this period, he lost and gained weight, but that does not affect his career growth. He always utilized his weight situation funnily and successfully played the overweight and funny guy in different movies and TV shows.
When looking at the weight loss journey of Kevin James, there are inevitable ups and downs. In the following few lines, we will cover all the events that happened during his weight loss.
It all started in 2011 when he first appeared on David Letterman Show. He admitted in the show that his weight got to his all-time peak. He showed his concern about his weight and told the interviewer that he weighed 290 pounds which are merely 10 pounds away from hitting a massive 300 pounds. James also admitted that his weight is not well for his health and his family.
Later on, he hit 302 pounds, and at that point, he decided to start his weight loss journey. He took severe measures to bring the weight down. Kevin showed extreme dedication to his health and family and lost about 40 pounds in few months of the weight loss decision.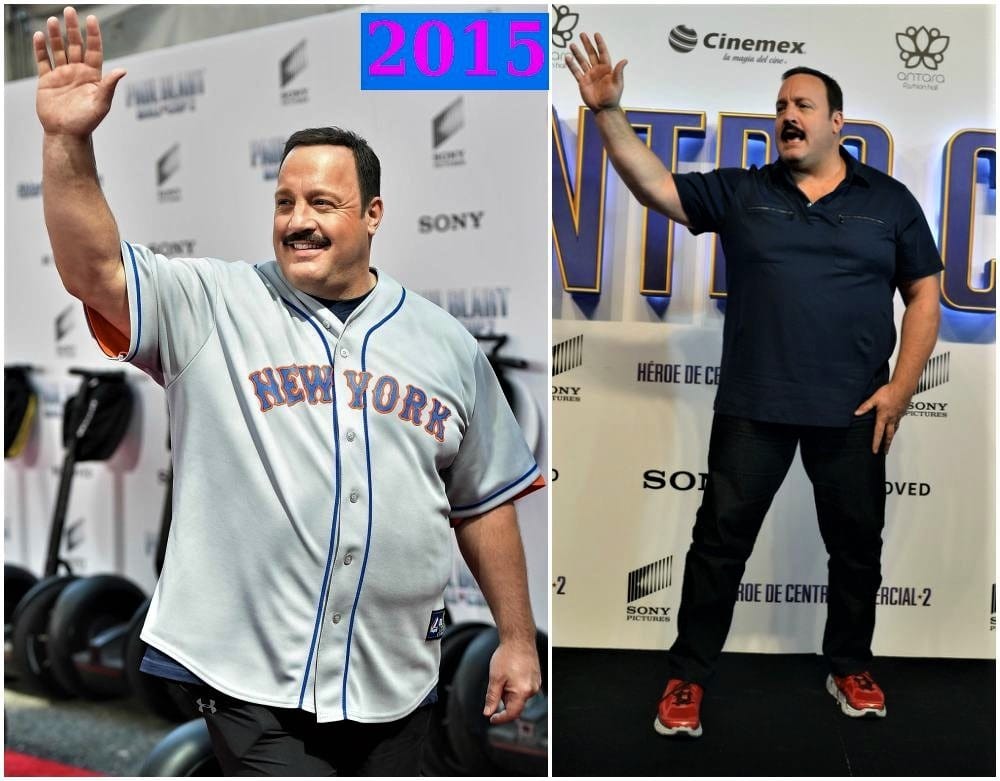 In July 2013, Kevin appeared in the promotion event of his movie Grown Ups 2. He showed himself as bulkier in the events due to weight gains. Even dressing up in sizeable baggy cardo pants and a huge black shirt, he could not manage to hide his large frame.
Towards 2013 he appeared in the Despierta America, a Univision Show where he looked even bulkier and seemed to gain more weight. And in 2014, he does not appear much in public because he did not make any new movies. But he did some tours for his stand-up comedy events where he looked almost the same as we saw him in 2013.
James appeared in few movies in 2015 and looked to gain more weight compared to his previous year. He appeared in titles like Paul Blart: Mall Cop 2 in 2015, and clearly, his belly seems to outgrown in the movies.
Back in 2016, the famous CBS sitcom star looked much better than his previous year's condition. His belly looked controlled, and he seems to drop few pounds compared. In recent years he seems to be more cautious over his weight and caring more for his health.
Some other celebrities successful stories are Billy Gardell Weight Loss, Jorge Garcia Weight Loss and Kirsten Vangsness Weight Loss Journey.
Kevin James Wrestling Role:
The weight loss progress of Kevin James got further towards a better end when he accepted the challenging role in the comedy movie "Here Comes the Boom" in 2012. To portray his role and make things look real, Kevin shed some more pounds. He adapted well to the role of Scott Voss, an MMA fighter. To make things more interesting, he practiced and trained for the role of fighting a real MMA fight.
To develop stamina for sustaining in the ring for long fights, Kevin James trained hard and lost 80 pounds. He lost his extra weight and built muscles to look like a real martial arts fighter in the movie.
Later on, James dedicated successful weight loss and body transformation to his trainer, Ryan Parson, a well-known MMA trainer. His trainer owns a sports management facility named "Radius Sports Management," where he trains the Hollywood productions for fight training.
But shortly after the movie "Here Comes the Boom," Kevin started to struggle again with the weight gain. By the mid of 2012, he already started making headlines for his weight gain issues. And in 2013, Kevin began to look changed from his 2012 body transformation.
In an interview, the King of Hollywood Comedy expressed his thought about his weight gains after his role in Here Comes the Boom. He added, "I felt better, my clothes fit me, my mind was clear". Kevin further added that "It is challenging to sustain". He explained the real cause of weight gain by saying, "I was working out all the time when I was getting ready for the movie". Kevin explained that he wanted to keep in shape, but all the workouts make him constantly in the gym.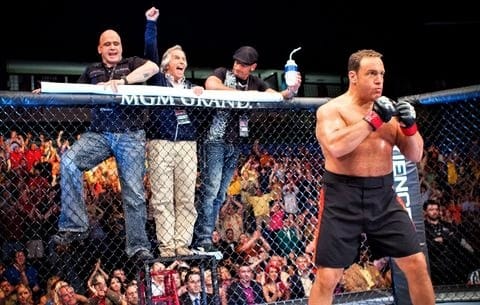 Kevin James Weight Loss Diet Plan:
For making positive changes to his body, Kevin adopted a strict diet for fourteen months along with the challenging exercise routine. Kevin James weight loss diet included fat-free and low-carb food. His workout involved running, drinking greens, sparring, and a three times a day workout routine.
James showed great dedication towards his role and committed a routine involving a run for an hour, a bike ride, and running up and down on the hotel stairs. He also incorporated push-ups, sit-ups, boxing, and medicine ball routine in his workout schedule.
All these workouts collectively helped him to gain stamina and improve body flexibility. Kevin also improved the core strength and coordination of muscles during that period. All this hard work paid him well for his role and his personal health goals.
Kevin James Family Life
Kevin James was born to a non-showbiz family. His father, Joseph Valentine Knipfing Jr., founded an insurance company where he worked and raised Kevin and his brother Gary Valentine. Kevin's mother was a healthcare practitioner and was specialized in chiropractic treatment.
Unlike most children who follow their parents' profession, Kevin and his brother made their name in Hollywood. They both reach the apex of their career by pursuing a career in acting and comedy. They have a younger sister named Leslie Knipfing, who currently looks after and manages Kevin's charity-related affairs and events.
Kevin's elder brother, Gary Valentine, is an American actor and well-known stand-up comedian. Like Kevin, his brother started his career as a stand-up comedian back in 1993. He works alongside Kevin in several titles and played roles in TV shows, and movies like I Now Pronounce You Chuck and Larry, Zookeeper, The King of Queens, Paul Blast: Mall Cop, Here Comes the Boom, Kevin Can Wait, and Paul Blast: Mall Cop 2. He also has several other titles under his acting career, like Poolboy: Drowning Out of Fury, The Deported, and Men of a Certain Age.
Besides Kevin James siblings and his parents, Kevin is married to the talented Saffain de la Cruz. She is also an American actress. They both got engaged in the relationship when they went on a blind date. They declared husband and wife in June 2014 in a Catholic Church in California. Later, their wedding reception held at Laguna Beach on Montage Resort
Steffiana de la Cruz and Kevin James have four lovely children. She gave birth to their first daughter named "Sienna-Marie James" on September 30, 2015, and after two years, on June 14, she gave birth to their second daughter "Shea Joelle James. They had their third kid as a son, "Lennon Valentine James," on April 24, 2011. Later on, their last child was also a baby girl named "Sistine Sabella James," born in January 2015.
As his husband, Kevin's wife is also a multi-talented actress and has worked in some TV shows and movies. He mostly appeared alongside her husband. She portrayed her role in films like Pacific Blue, Cement, Die Gang, Stealing Harvard, Paul Blart: Mall Cop 2, Something to Sing About, Kevin Can Wait, and Zookeeper.
Kevin James Net Worth?
Kevin has a steady income from his movies and TV serials career. He has accumulated great wealth from this on-screen career over the years. According to some reports, Kevin manages to earn $3 to $4 million from TV shows and sitcoms while earning 12 million from his movie career.
Not only he has these two earning streams, but he is also a highly paid stand-up comedian. Over the years, he accumulated a wealthy amount and currently has a net worth of $80 million. This staggering amount results from his continuous success in the movies like Zookeeper, Grown Ups, Grown Ups 2, Hotel Transylvania, and Pixel.
It all started for Kevin when he stepped into the stand-up comedian career in 1989. Later he moved to the TV shows and movies and never looked back. He also appeared in some early episodes of the popular CBS sitcom "Everybody Loves Raymond."
From his role in the CBS sitcom "The King of Queens," he managed to earn a staggering $500,000 from each episode. He gained his career spike from this sitcom and got recognition internationally. He credited an Emmy Award nomination for his role in this sitcom.
Kevin moved to scriptwriting and got involved in the writing and production field. He has written and produced the movies like Paul Blart: Mall Cop, Here Comes the Boom, and Paul Blart: Mall Cop 2. He also played a role in these movies and worked multi-dimensionally to make these projects successful.
Later in 2018, he launched a new comedy title on Netflix named "Kevin James: Never Don't Give Up" and received good acclamation. Besides his current wealth, he has sold a 12,828 square feet mansion in Florida for a whopping price tag of $29 million in 2016. He currently owns a luxury home in Los Angeles which measures 5,386 square feet.