There are various gears for fitness in the market, but sometimes it becomes challenging to pick one of the best. You can trust the Schwinn brand as they don't make any compromise on quality. It is good to buy Schwinn products whether you want to buy a cycling bike or other exercise gadgets. I have used both of these bikes and knows everything about it. Here I will try to compare the Schwinn IC3 vs IC4 to get some information about your needs, and it will also help you make the right decision.
There are many features in IC4, and this will prove a good pick for you. Higher micro resistance will be good for those who want serious results. But due to its extra features, it is costly. But IC3 is a budget-friendly workout gadget for you, and you can save money in this respect. The capacity of IC3 is up to 300 pounds, and it is a good exercise bike for you.
Schwinn IC3 Review
You will consider tiny things while comparing Schwinn IC3 vs IC4 bike. IC3 indoor cycling bike has a basic design and contains fewer features than IC4. But you will get a sturdy bike for exercise that will also give you fundamental resistance for a workout.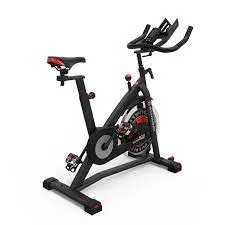 These machines come with a 40-pound flywheel and a straightforward LCD console to monitor your workout time and progress. I can also adjust my seat for workouts according to my comfort level. However, these cycling bikes are low in price, durable, and easy to use.
I can use these cycling bikes for years after investing without financial pressure.
Specs & Features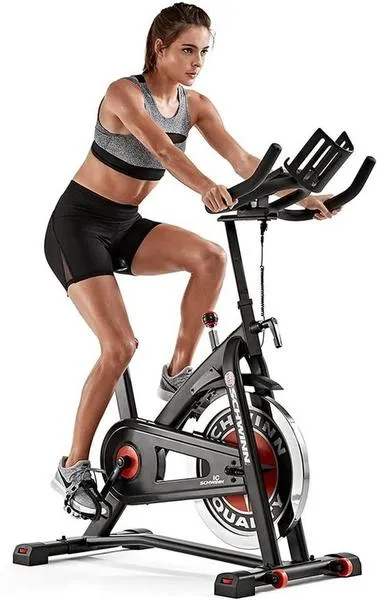 The Schwinn IC3 manual suggests the following specifications:
Weight: The assembled weight is 114.4 Pounds
Dimensions: When it comes to dimensions, IC3 is 45 x 23 x 49 inches (L x W x H)
Max Cap: The maximum weight capacity is 300 Pounds
LCD Screen: This cycling bike has an attractive backlit LCD, and you will enjoy watching the screen during your workout. It is the most appealing screen available in the market and an excellent source for data streaming. You can see all of the information about data on this screen, such as speed, distance covered, watts, RPMs, and calories burnt.
Heavy Flywheel: It also has a 40-pound flywheel, and this wheel makes it a compatible bike in the market. You can easily adjust the resistance according to your need if you are a beginner or an experienced user. There is only a need to set the resistance level, and you can enjoy all of the benefits of this workout machine.
Wool Felt Pad: The other exciting feature is the wool felt pad that will provide you with a relaxed position during exercise. You will get an enjoyable experience from start to end. This pad makes sure that your body remains calm and protects your position throughout.
Multi-Position Handlebars: The multi-position handlebars are very cooperative for placing your hands comfortably. There is also a slip-resistance texture to help you save from any accident during a workout. The handlebars also protect you from any mishap.
Resistance Levels: There are plenty of options for Schwinn IC3 resistance levels. Users can set these resistant levels according to their workout sessions. With an excellent starting point if you only want to enjoy your exercise with only significant resistance. You can adjust the resistance in the middle of your workout on rider demand.
Higher Comfort Level: The comfortable race-style seats will give you extra comfort. The Schwinn IC3 contains a ventilated seat. You will get a relaxed posture while sitting on this workout machine.
Heart Rate Monitor: The Schwinn IC3 heart rate monitor is a wireless telemetry-enabled monitor. This monitor will keep a check on your heart rate during your workout.
Warranty: If we talk about security, the frame has a five-year warranty, and the electrical parts have a two-year contract.
Can it be Used with Fitness Apps?
The drawback of Schwinn IC3 is that I cannot connect to apps such as Peloton. Although it has some setbacks, I can still invest in this bike. I have lots of expectations from this machine as it will make my fitness goals come true with simple features.
How to Decide if the IC3 is the Bike For You?
The choice about things changes between the individuals. If you want a straightforward machine for yourself, Schwinn IC3 is a good pick. Although the functions are relatively less than IC4 level, you will get a five-year warranty for its body structure and a two-year electrical warranty. You can fit it anywhere, and the Schwinn IC3 price is budget-friendly.
Schwinn IC4 Review
When you look at the design of the Schwinn IC4, there will be no questions remaining in your mind about structure and workout. It is less fancy, but you can accommodate it anywhere according to your fitness levels.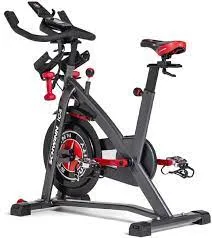 It doesn't matter whether you are a beginner or a fitness expert; this bike will meet all your challenges about the workout. Its design is very compact and practical as well.
There is no need to mention that the design and appearance are very smooth and modern. There are many features for your comfort and a 40-pound flywheel. You will have many options and provide the connectivity option for apps such as Pelton via Bluetooth.
The material of this bike is very durable and rugged, and this will be in favor of warranty duration.
Specs & Features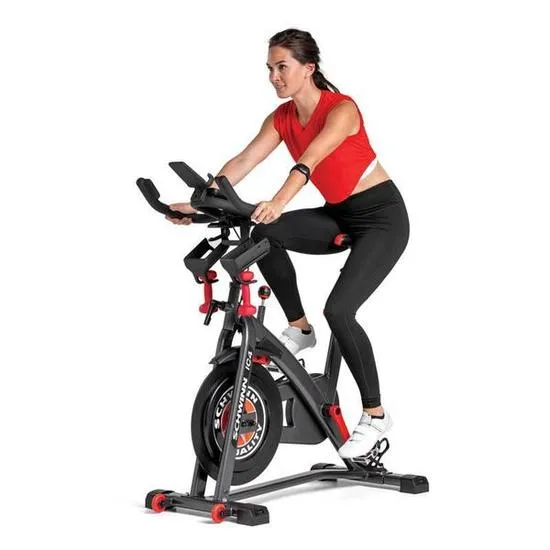 The Schwinn IC4 manual suggests the following specifications:
Weight: The assembled weight is 106 Pounds
Dimensions: When it comes to dimensions, IC3 is 48 x 21.2 x 51.8 inches (L x W x H)
Max Cap: The maximum weight capacity is 330 Pounds
Level of Resistance: The micro resistance levels of this cycling bike is more advantageous than the other stationary bikes on the market. You can enjoy lots of customizable workouts from this machine and easily change the resistance level in a few seconds. It is pretty easy to use this machine and very user-friendly.
Flywheel: A 40-pound flywheel provides you with good resistance during a workout. The heavy flywheel is a silent feature in all Schwinn cycling bikes. However, Schwinn IC4 assembly seems tricky when handling the flywheel.
Dual Link Pedals: The design of the pedals is very streamlined and helps your feet remain relaxed even in the rapid practice of cycling. They are equipped with beautifully designed cages for your feet so that you can place your feet on them.
Backlit LCD Monitor: In IC4 comes with an LCD monitor that will add extra marks in the competition race. This LCD will provide information about your workout, such as you can see the distance covered, time, heart rate, speed, calories burnt, and RPMs.
Armband For Heart Rate: With this bike, you will also get a Bluetooth-enabled armband. Through this armband, you get information about the rider's condition. This armband connects to the screen, and you can see data on the LCD monitor. It is ideal for users who want a low heart rate as steady as possible.
Extras: There is a heavy-duty crank for your spin exercise. An adapter is also available with the product. You will also get a three-pound dumbbell set for extra workouts for free. There is a table holder, and this machine provides you with practical training for your upper body areas.
What Apps Does the IC4 Work With?
You will connect with the Peloton app and treat the other well-known and leading apps from digital training platforms such as Zwift. It is the only matter of exploring the most engaging app for you on the list. However, there is lots of option for you.
How to Decide if the IC4 is the Exercise Bike for You?
It is good to put the Schwinn IC4 to the test if you want to have a serious workout in your home or office. The important thing about this machine is that you may not break the bank for this professional piece of fitness gadget. If you don't like going to the gym and want to enjoy live fitness sessions, IC4 will prove a good pick.
The Schwinn IC4 indoor cycling bike is very appealing fitness equipment for those who want high-end designs but face a lack of budget. However, IC4 is the same thing to some extent as you want from high-end products, and you will not disappoint in respect of quality while Schwinn IC4 price remains low compared to those machines.
Schwinn IC3 and IC4 Differences & Comparison
Now it's time to check out the features with the comparison to decide which one is best. In every section, you can see the qualities of both the Schwinn IC3 and the Schwinn IC4 bikes.
| | | |
| --- | --- | --- |
| Features | Schwinn IC3 | Schwinn IC4 |
| Resistance Levels | Unlimited | 100 |
| Drive System | 40 pounds flywheel | 40 pounds flywheel |
| Coaching App | No | Peloton App and others |
| Bluetooth Connectivity | No | Yes |
| Display | Yes, LCD | Yes, LCD |
| Seat Adjustability | Yes | Yes |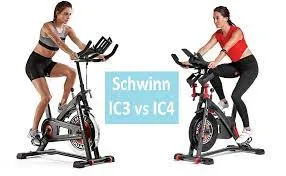 Design Comparion
While looking first, you will see that the Schwinn IC3 and Schwinn IC4 are comparable. But there is a slight difference in the striking red color design. Both of the machines will give flair to your indoor fitness collection.
The Brillant design, especially the Schwinn IC4, will give you a sleek, smooth look with durability and offer good stability while having a full-speed workout on your cycling bike.
Both the IC3 and IC4 Schwinn bikes are durable and hard enough. IC4 can bear a weight of up to 330 pounds, while the IC3 can handle a weight of only 300 pounds. Both of the weight limits are very good for consideration.
The Schwinn IC3 and Schwinn IC4 come with beautiful and helpful designs that enhance any workout time. There is a water bottle holder, and you can also use it as the media holder. These machines also contain transport wheels and levelers that will be very helpful if you have an uneven place for your exercise. The transport wheels are significant if you want to move your bike from one place to another.
Some handy tech is also available in these machines, like the LCD monitor to note the speed, time, and distance. However, you will find a backlit LCD with IC4, but the IC3 has a simple one. There is a connectivity option in IC4 for your smart devices by using the charging port. You can attach other devices like mobile or tablets for watching and exploring the fitness world to enhance the credibility of your workout.
The extra feature with IC4 is the dumbbell station on the bike. There is a beautiful section with handlebars to keep them safe, and you can also close them while having a workout ride on your bike.
Flywheel Feature
Both of the stationary bikes have a 40-pound flywheel in them. In Schwinn IC3, you will get a 40-pound heavy wheel for a smooth ride without any noise. And it is budget-friendly also.
The quality of the Flywheel is essential because this is the only feature that can make a difference between the workout and outside the regular bike. When your exercise bike gives you a feel like your traditional bike, this workout practice will become more enjoyable, just like an outside ride.
IC3 VS IC4 Seat & Pedals
In both models of Schwinn, you will feel very secure while pedaling. The design of pedals gives you a comfortable feeling without concern with speed conditions. These dual-link SPD foot paddle contains clips and provides a cage for your toe so that your feet remain in their place. The toe cage is specially designed for your security as the grip remains on your paddles, and you will not fall off.
The design and features clearly show that the brand is earnest about their bike and knows that users stay on these bikes for workouts. You may get tired and feel uncomfortable in the wrong seats, even in your indoor practice. But these two models of Schwinn provide you the ventilated seats just like the seats of race cycles provide their users. It doesn't matter which model you pick, but These seats make you feel relaxed and comfortable during your exercise on these bikes.
Cycle Handlebars Difference
You noticed that your hands get fatigued on cycling bikes, even on stationary bikes. But the Schwinn IC3 are urethane-dipped, and it is very comfortable to hold them. There is an option to adjust them according to your posture, so you can quickly look at your LCD screen and have an intense workout by leaning forward. You can move handlebars horizontally and vertically.
There is a similar case with IC4. It is up to you to set the handlebars to support your upper body. The other benefits are the tips on the handlebars that will make it more comfortable to grab them, especially for users who want long sessions for a workout.
Schwinn IC3/IC4 Resistance Levels
There is also an option in Schwinn IC3 to set the resistance levels according to your choice. You can set these resistance levels by using a knob. With lots of resistance options, you can choose an exact opportunity.
But the Schwinn IC4 contains a micro resistance option that means 100 different levels to choose from. From. Your bike provides it with magnetic resistance.
However, it is essential to note that IC3 provides friction pads, but IC4 doesn't have the same case. IC4 has magnetic resistance that is free from maintenance. You may need to exchange the worn-out pads of IC3.
Compatible Apps with Bluetooth Connectivity
The other prominent point of Schwinn IC4 is the handy resource for exploring the world. But the IC3 doesn't have these options. You can use helpful apps like Zwift and Peloton. You will get easy access to on-demand classes and take them to live through these apps. It will give you just like community feeling and enjoyment during your workout. You can get lots of experience from these live sessions through these apps.
Connectivity is a basic need nowadays, and you cannot accept that all fitness gadgets are Bluetooth compatible now. The Schwinn IC4 is Bluetooth enabled, but the IC3 is not compatible with this service. If you want to connect smart devices to monitoring decorations, you will consider IC4.
Schwinn IC3/IC4 Heart Rate Monitor
Both of the models provide you with heart rate tracking devices. The IC3 is telemetry enabled and contains a built-in system for heart rate. There is only a need to look at the LCD screen during your daily workout.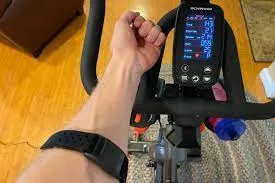 But with IC4, there is an armband responsible for tracking your heart rate during exercise and syncing it with your bike's LCD screen through Bluetooth. You can get more information by the display in between the handlebars, and it doesn't matter whether you touch your bike or not. The armband will track your heart rate.
Schwinn IC3 vs IC4 Price
The price difference in both of the Schwinn bikes is considerable. The difference is about $400, and it makes sense when you look at your IC4. Moreover, you can get a good quality bike for indoor use for $1000 if you opt for IC3.
It is up to you whether you want to save money or give importance to the features. All elements in IC4, from resistance to connectivity, are considerable, and you will get a comfortable workout.
There is a big difference in the warranty of both of the bikes. IC3 gives you a 5year warranty, and IC4 will provide you with 10 year security.
Note that there's a considerable difference in the warranty coverage of these two indoor cycling bikes. The IC3 only comes with a five-year range, while the IC4 can have up to 10 years.
Schwinn IC3 vs IC4 Indoor Cycling Bike (Choose One)
The Schwinn IC3 and IC4 are amongst the best cycling bikes for office and home use. Although both the machines have their positives and drawbacks, they will fulfill your workout needs.
IC3 contains more minor features than IC4, but it is more affordable. Both of the bikes include a 40-pound flywheel for an intense workout, and IC3 also has a sturdy and compact design that you can adjust anywhere,
On the other hand, the Schwinn IC4 is a complete package of features but is more expensive than the Schwinn IC3. But at the same time, you can enjoy live fitness sessions from connectivity options in IC4. Now it becomes up to your budget only; otherwise, both cycling bikes are good inexperience.
If you want the connectivity option for motivation from the live apps of Peloton and Zwift, then you should consider the IC4 for this purpose. If you don't like to get any inspiration from these apps, you can choose IC3, a good bike.
If you are tighter on budget and want to save some money while compromising on fitness apps like Zwift and Peloton, IC3 is the best option. It has the advantage of economical price and caters to the needs by remaining affordable. The final selection of the Schwinn IC3 and Schwinn IC4 is solely on the buyer whether they want to experience the features rich IC4 or they opt for the affordable IC3 exercise bike.