The Yosuda indoor cycling bike stationary is an economical bike that requires less maintenance and contains belt-driven hardware for an exceptionally silent and seamless training session.
It has some exceptional traits like a soft and sturdy wool felt pad resistance, ergonomic design, adjustable seat, durable alloy aluminum non-slip pedals, and inertia-enhanced heavy flywheels for satisfying seamless rides. These features make the Yosuda bike one of the best indoor bikes.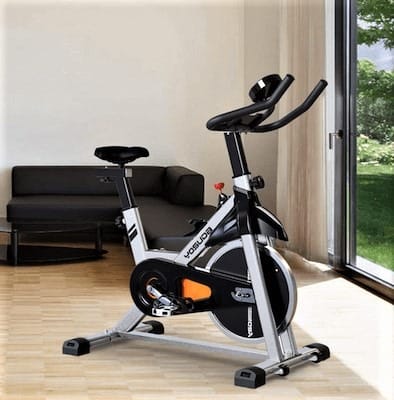 Although these Yosuda cycling bikes were only released in 2018, making them comparatively new, especially compared to many other stationary bikes, they have become some of Amazon's best-selling and highly-rated stationary bikes.
The Yosuda indoor training bikes have the best q-factors in the market. It minimizes strain and adverse effects on knees and ankles thanks to its 177 mm q-factor. It has a fair price tag and is very easy to store because of its small dimensions. We can modify it to fit various elevations and be used by multiple people of different heights.
The bike has a nice appearance and appears to have all of the essential features for a good workout and to assist you in reaching your exercise goals.
Specifications
| | |
| --- | --- |
| Manufacturer | Yosuda |
| Drive | Belt |
| Resistance | Adjustable friction |
| Adjustable Seat | Yes |
| Adjustable Handlebar | Yes |
| LCD Display | Yes |
| Weight Capacity | 270 Pounds |
| Flywheel Weight | 35 Pounds |
| Assembled Dimensions | 40 x 22 x 45 inches (L x W x H) |
| Item Weight | 68 Pounds |
| Warranty | One year |
Pricing:
The price of the YOSUDA exercise bike is reasonably acceptable, keeping in mind the quality of the cost. You can get additional features and accessories without paying a higher price. Moreover, Amazon provides free shipping to qualified orders and locations on these bikes.
Yosuda Indoor Cycling Bike Stationary Assembly Instructions
Yosuda indoor cycling bike stationary assembly needs to get it to work on its arrival. It takes about an hour to finish the assembly, while a skilled person can complete the process in less than 30 minutes.
The unit comes with everything you need to put it together, including Yosuda indoor cycling bike stationary manual and instruments. The directions are easy to follow and include diagrams to aid better understanding. You can visit the manufacturer store to watch the instructions video for a better understanding.
It takes a manual approach to attach handlebars, stabilizer bars, seats, pedals, support posts, and LCD console to the frame. However, it's a lot simpler to assemble than most pre-assembled items.
Yosuda indoor cycling bike stationary weight is approximately 69 pounds. It is better to have two people to complete the parts installation. Because It simplifies the process of fixing and carrying, however, a single person can also effectively assemble the bike without any issues.
To install the yosuda indoor cycling bike stationary pedals, you need to attach the right pedal on each side as they are critical in the bike's functioning. The left pedal has a counter-clockwise orientation and needs to connect counter-clockwise, while the right pedal needs a clockwise installation due to its clockwise direction. This is common on bicycles, and it keeps them from coming swept aside while you pedal.
Related Article :Best Air Bike Under 500 for Home Workout
Yosuda Indoor Cycling Bike Stationary Adjustability
You can easily adjust the seat in both vertical and horizontal directions. Even the height of the handlebars is also adjustable. The handlebars' height is easily adjustable, enabling the bike to adapt to accommodate people of various heights and shapes.
According to the customer feedback, the bottom of the range for reaching the pedals is around 4ft 10 inches, though some people claim they stretch to get for the handlebars. According to its dimensions, the top of the range seems closer to 5ft 10 inches.
The adjustment knobs on the seat and handlebar posts can easily adjust the height of the seats and handlebars. You undo them and pull to release the pin from the adjustment pole's preset holes, and then slide the pole into position and re-insert the holding pin into the hole after re-aligning and tightening it into place. It's a lot easier than you expect, and it's a standard exercise bike adjustment technique.
If someone moves the adjustment after using it, you can easily adjust it to the height you want to get it back to the best fit for you. It's simple to do, and you might want to use a marker pen to draw a line on the pole to indicate where you want it adjusted.
The horizontal seat adjustment is similar to the vertical seat adjustment in terms of operation. Unscrew the adjustment knob underneath the seat, slide it into place, and then tighten it back up. The adjustment ranges from 2 to 3 inches, and some customers have complained that it places them too far away from the handlebars when on the lower end of the adjustment scale or too close when on the upper end of the scale.
The handlebars don't have as much vertical adjustment as the seat, so if you're over 5'10", you might find they're lower than you'd like for a comfortable fit, and they can move slightly from side to side at the top of the adjustment range.
Yosuda Indoor Cycling Bike Stationary Resistance
Resistance is the main component of the indoor cycling bike as it provides a more challenging pedaling. The resistance on the YOSUDA Indoor bike is front-mounted with the sit on the top flywheel design. You can control the amount of the total resistance during the workout by the adjustable knob.
It is straightforward to increase and decrease the resistance from manual control using the knob. You can set it at any resistance level by turning it around. A more significant resistance level makes it challenging to pedal and demand a forcefully pushing of the pedals. It produces a whooshing sound by not to the extent to irritate you and people around you.
The wool pad comes in constant contact with the flywheel that promotes wear and tear of the material. It can start skipping and making a disturbing sound. You can avoid this situation by applying silicone-based gel lubricant to its surface.
YOSUDA offers a replacement pad along with the purchase that facilitates you when the time comes for its replacement. However, there are not clear instructions by the seller that how to replace it. You can contact customer services to avail the instructions regarding changing it manually with little to no assistance.
Another good thing about the resistance system is the presence of a guard over the resistance pad. This guard prevents the dripping of sweat and other material on the flywheel and pad to keep them safe from liquid damage.
One limiting factor of this resistance system is the absence of a resistance measuring mechanism. If you have set the resistance to a specific level and then someone changed it, you never come to know until you feel. You have to set the level again by determining the best resistance level for your body.
Related Article :Top 10 Best Exercise Bike Under 500
Flywheel Drive System
The YOSUDA Indoor Cycling Bike has a flywheel drive system. It is a belt-driven system with a heavy flywheel rating of 35 pounds that provides a silent and consistent operation compared to the chain and fan drive system.
It constantly engages you while you paddle and keeps the momentum going. This constant motion helps protect the knees and joints as you drive without any jerky movement.
The belt drive system is smoother and more rewarding as it requires low maintenance compared to the chain-based drive. It also supports the drive better as you do not need to adjust the chain repeatedly. The drive on the belt seems smoother, but you may miss the characteristic sound of a traditional chain drive.
Another great feature that is common to the stationary bike is the flywheel and pedal fixed rotation. You cannot freewheel on YOSUDA Stationary Bikes as both the flywheel and pedals are bound to each other. They drive together a gentle pressure to keep you going on the wheels without chance of injuries.
Therefore, gentle pressure needs to stop the bike or use the resistance knob to stop the bike. Because there is no dedicated brake on this stationary bike and you have to apply a break using the knob in emergencies.
YOSUDA made this bike safe to use at home, even near the children. The pedal wheel and belt area have an enclosure of a plastic guard that protects the ankles. Moreover, the guard protects the children's hands and fingers from being caught inside the flywheel and belt system.
Yosuda Indoor Cycling Bike Stationary Comfort
The seat is padded and contoured and allows airflow to provide some support for the hip bones. Some people like the design and find it perfect, but as with all stationary bike seats, it is not for all, as getting comfortable in this region is extremely subjective.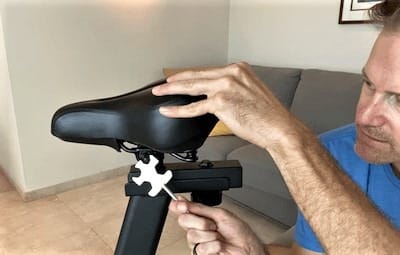 If you haven't ridden a bike in a long time, you will most likely experience discomfort before your hip bones become used to the seat design. The numbness can recede after a few weeks, and the area will remain awake in a comfortable way.
It is also possible to replace the seat with one that is more convenient. The bike can accommodate most regular bike seats. It's comparable to swapping out the seat on an outdoor bike.
Besides a soft whooshing noise, it is a silent bike that will not wake up anyone in the building, even if they are sleeping in the same room. The bike can vibrate slightly, so you should be fine using it in a building on the second floor, and an exercise pad will ensure that you don't annoy anybody in your home due to its operation.
Cleaning up the bike is not too difficult. It's critical to keep it clean to prevent moisture and sweat from eroding the bike. You can do this with a simple wipe down with a wet cloth. Except for sweating and dirt from the pad, it really shouldn't drop something on your floor, but an exercise mat will help protect your floor from damage caused by motion.
Buying instructions for Yosuda Cycling Bike
Build Quality:
YOSUDA Indoor exercise bike has a heavy 35 pounds flywheel that connects to the heavy-duty and sturdy steel body. It provides a solid foundation for your spinning workout sessions. When going full throttle, there could be some minor wobbling, but nothing to be concerned about.
There are four plastic end caps under the bike base to provide you with a stable base. They have levelers in them, and you can modify the bike's stability on an uneven floor by switching the adjusters according to the texture and slope of the floor.
However, some people have complained about pedals collapsing off and other similar problems. This is a serious matter, but the supplier seems to be very supportive in solving issues and parts replacement without hesitation, which helps mitigate several problems.
Yosuda indoor cycling bike stationary warranty specifies the parts replacement for 1 year, which is a positive sign when making a buying decision.
Storage:
Since the bike is relatively small, it does not take up a lot of space for installation. You can use two small wheels on the front stabilizer to drive it around for storage and transport.
You can move and push the bike anywhere inside the house, with the weight on front-mounted wheels. It can be a little challenging to get around corners because of the position it is tilted on, but you should be fine as long as you don't hurry. One guy can do the transport, but it is easier to avoid any mishaps when carrying by two people.
This is how the majority of workout bikes transport works. They work well on hard surfaces, but they can be challenging to maneuver on the rug, especially soft rugs, where the wheels can become stuck.
LCD Monitor: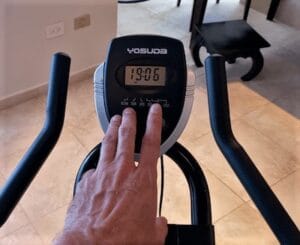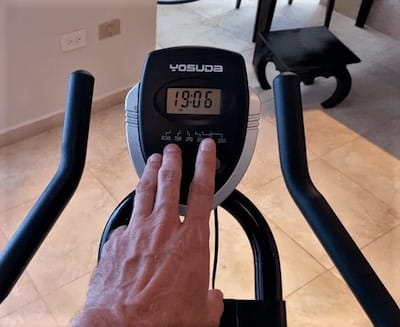 A simple LCD monitor shows time, distance, pace, and calories burned. It displays one measurement at a time with a mode button on the bottom. It has a small arrow that matches up with the index to indicate the metric shown.
You can also use the scan function to keep updated entirely by cycling through the steps every few seconds. You can reset the display by resetting the mode button for few seconds. When you begin pedaling, the display will activate.
The console operates by two AAA batteries that come in the package. It does not need a power outlet to turn it on. It makes it much easier to ride the bike anywhere you want, and the bike will continue to function even if the screen is off.
There is no backlit in the LCD that makes it difficult to see it in low light conditions. for tracking your progress, it does not connect to any app, and you have to track the progress manually.
There aren't any pre-installed applications. You may use an App provider to join online workouts or to follow lessons.
Since there is no resistance measurement, no RPM measurement in particular, and no heart rate control, you will have to guess and go by feeling to follow along, but you will still get a proper workout. Many indoor cycling bikes lack these features, relying on users to estimate RPM and resistance level based on feel and experience.
The console's readings are a good indicator of your progress, but they shouldn't be relied upon. Your weight or resistance are not taken into consideration when calculating calories. If you keep a record, you can also monitor your progress by contrasting workouts with another instrument.
Accessories:
It comes with a water bottle keeper that mounts on the center of the bike. Yosuda cycle keeps the bottle within proximity while in the seat without requiring too much stretching. It easily suits a compact bottle of water, but it can accommodate larger bottles; however, it is challenging to replace the bottle while cycling.
While riding and getting off the bike, the positioning necessitates a little extra caution. If you step through instead of swinging your leg over the back, you risk breaking the holder or having the bottle vanish to the other side of the room.
Yosuda indoor cycling bike stationary with iPad mount is located just under the console. It can comfortably accommodate a mobile phone for video viewing.
If you want to use an iPad or a more significant device, you'll need to align that against and cover the screen, which can be a challenge. It will be tilted more than you would like, making it challenging to read.
Pros
1. It has a pretty basic console that displays all the necessary information
2. The drive on this stationary bike is silent and does not irritate while working out
3. Two front-mounted transport wheels facilitate easy transport
4. The price range is very affordable compared to the features
5. Highly adjustable design for a comfortable ride
6. Does not requires much knowledge for assembling it
7. Highly active customer support for addressing your concerns

Cons
1. No exact display on resistance knob to track resistance levels
2. No settings to measure the RPM
3. LCD monitor lacks backlit to watch it in dim light
4. Does not have app-based tracking
5. Small-sized media holder makes it challenging to place tablets

Summary
This is all for the YOSUDA Indoor Cycling Bike Stationary review. It is a bike that everyone needs for fulfilling their fitness needs with its moderate indoor cycling sessions. It is not a high-end indoor bike but reasonably good enough to keep up with some high-end indoor bikes. The features like a heavy flywheel, belt drive, and adjustable design certainly justify its price. You can do cardio by comfortably riding this bike for an extended period.