When it comes to hair products, you will be surprised by the number of products available on the market to cater to your hair's fashion and care needs. One such product that has created hype for women nowadays is chamomile extract. This extract comes in the form of shampoo to lighten the hair. It also offers multiple benefits.
Now you might be wondering why to choose chamomile shampoo while there are101 color treatments available at salons. It is a shampoo that lightens the hair naturally equipped with other helpful benefits. Such as, the chamomile flower promotes hair growth, and reduces dandruff and scalp inflammation.
Most importantly, it is natural to lighten up your hair with no additives that damage your hair. The best chamomile shampoos can lighten hair naturally, increasing the lifetime of costing color treatments. We will help you in picking up the best chamomile shampoo to lighten hair naturally.
Table of Content:
Original Vs Fake Brewed Chamomile
Nowadays, everything is produced artificially to make it more cost-effective the businessman has started building artificial agents for natural products. However, some trustworthy brands promise to give you the exact natural formula, while others just fake the original and natural products.
Therefore, it would be best to be very careful while buying chamomile shampoo and looking for trustworthy brands like those mentioned above. Without wasting any more of your time, let's dive into the world of the best chamomile shampoos and review some shampoos that lighten hair naturally.
Top 5 Chamomile Shampoo For Lightening Hair
1) Klorane Shampoo with a Pinch of Chamomile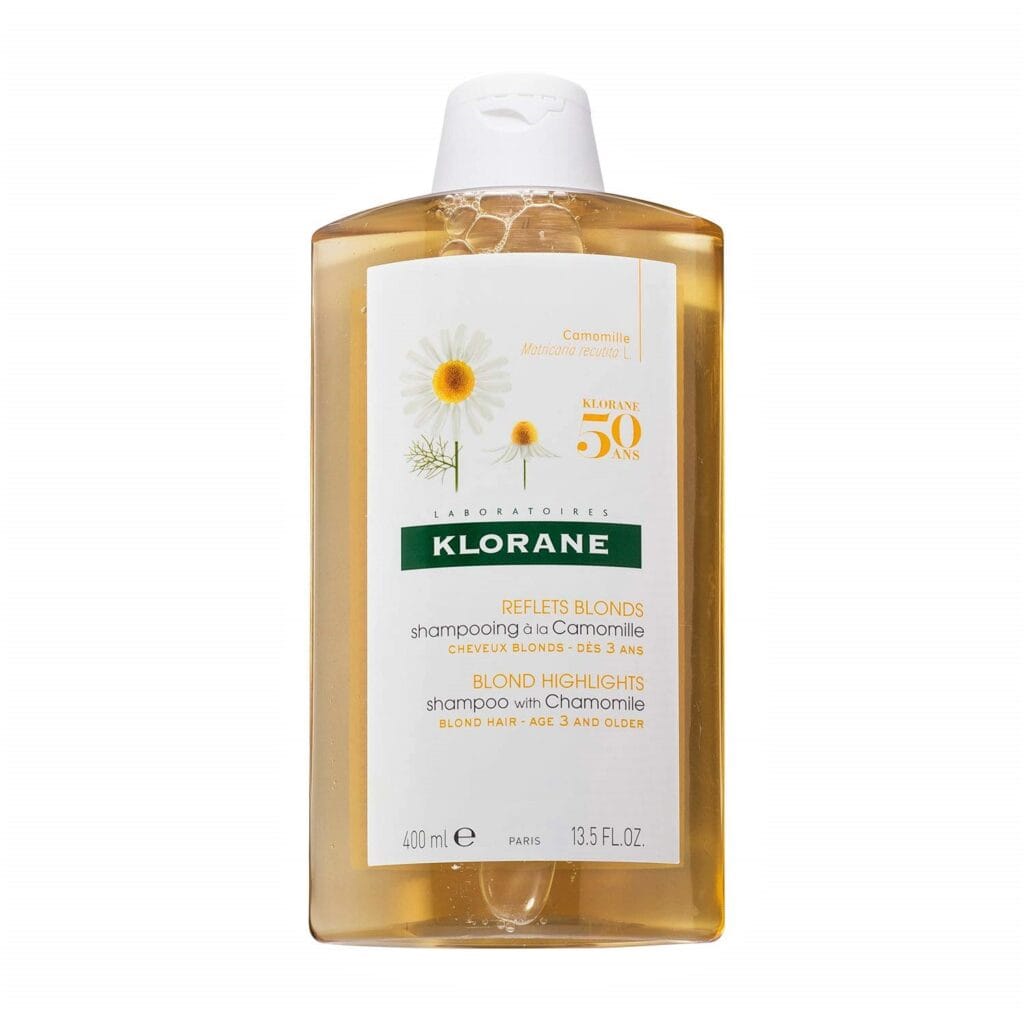 Free of Silicone, paraben, and sodium chloride
Includes plant-based ingredients
Ages 3+
Vegan
Biodegradable
The name Klorane speaks for itself. It is no doubt the best brand for hair products in the market. Once you get used to it, you probably won't like any other shampoos. This brand was founded in 1965 by a French botanist. Since then, it has preserved its organicist, providing you with the product in its most natural form. It is no doubt the best chamomile shampoo to lighten the hair.
This shampoo with the chamomile ingredient is a chief at French pharmacies. This famous women's shampoo was designed to lighten the hair naturally. It protects your hair from any damage. It was explicitly intended for brunettes and blondes. With its unique ingredient, it can give your hair exactly the style and color needed. 
This chamomile shampoo works best on people who have dark to moderate blondes. It also serves widely to all kinds of hair, whether it be an oily scalp or a dry scalp. The chamomile ingredient naturally lightens the hair, brightens your hair, and enhances your highlights, giving them a healthier look.
Its primary focus is on cleansing the hair with natural products and not any added chemicals. It is free of chemicals like chloride, peroxide, and ammonia, making this shampoo a very safe choice to use. The formula is versatile, including Quinine & B-vitamins that revitalize and strengthens your hair.
It is best for people with hair loss and hair thinning issues. This shampoo gives the fastest results among all the chamomile shampoos. This chamomile shampoo before and after differences can be noticed evidently. If you don't believe us, then do give it a try.
Pros:
Chemical-free
Used on blonde hairs to lightly brown them
Reasonable price
Suitable for all scalps
Cons:
Some complaints about drying out hair
2) John Frieda's Sheer Go Blonder Lightening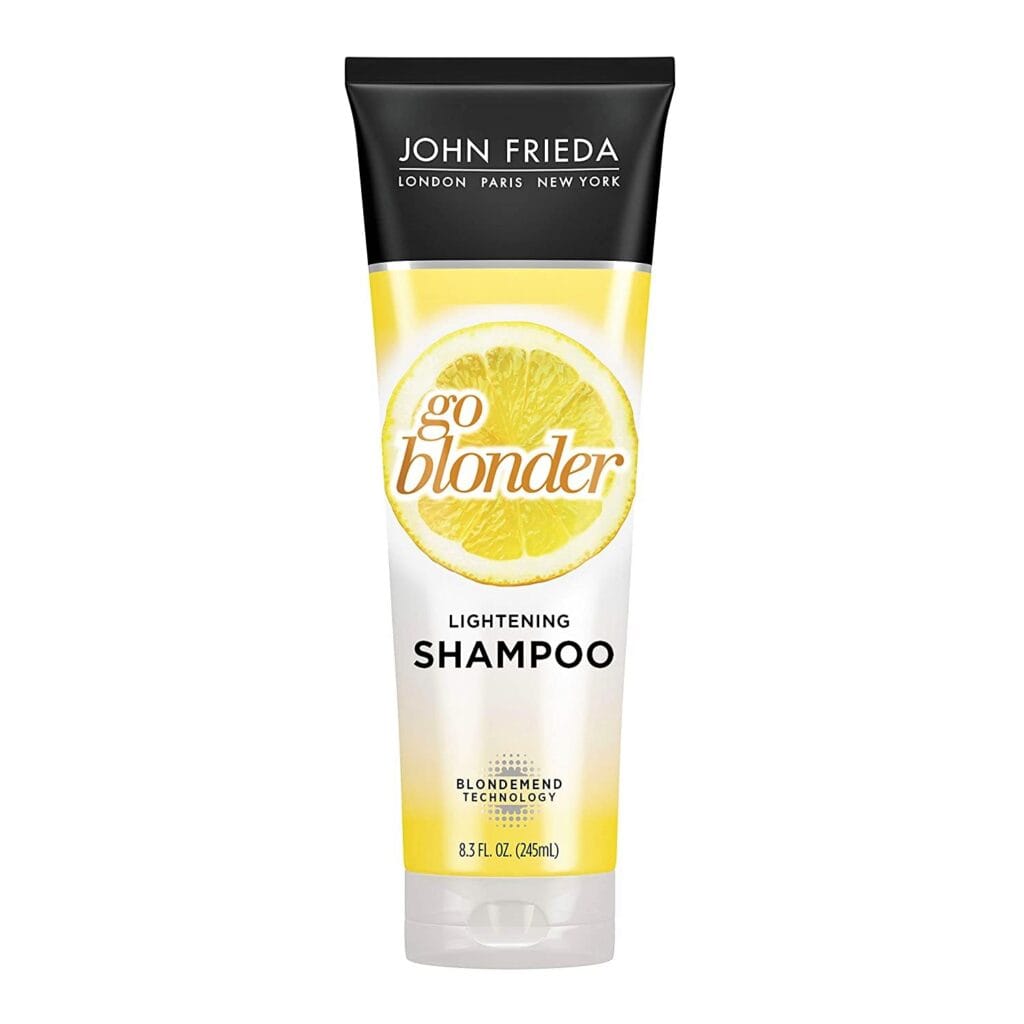 Includes citrus and Chamomile
Doesn't dry hair
Used on color-treated hair
Ammonia free
Peroxide free
It's not easy being a blonde or carrying around those color treatments, for first it is a massive burden on the pockets, and then there come its side effects, which puts more burden on the pockets. Finally, it probably gives you horrible roots and dull hair and many visits to saloons to correct the former issues.
Well, there is when these natural chamomile shampoos come to the scene to save your pockets and hair. They make your hair look natural and gorgeous, giving you that diva look. Furthermore, the results will appear in days; after some applications, you can for sure notice the difference in your hair that you were dying to feel. Well, now who doesn't want a shampoo that lightens hair naturally.
For decades, John Frieda has been known for producing high-quality hair products, and this lightening shampoo is no exception. While all chamomile shampoos help lighten hair, John Frieda's Go blonder lightening shampoo takes things a step further.
The brand has included its lightning complex, which consists of a blend of citrus components in addition to chamomile flower extract. No doubt it is the best chamomile shampoo to lighten the hair.
This product is also peroxide and ammonia-free. Chemical-free products make them more attractive for the consumer as no one wants chemicals in their daily use of shampoo. Everyone wants a safe shampoo option that could give the hair a healthier and shinier look.
Moreover, it will leave your hair with an enchanting scent making passerby's eyes turn. This chamomile shampoo is also famous among the models at New York and Paris fashion week.
Pros:
Chemical-free
Combination of Chamomile and citrus to brighten hair
Reasonable
All hair types
Provides moisture to hair
Cons:
3) Herbatint Shampoo with Added Chamomile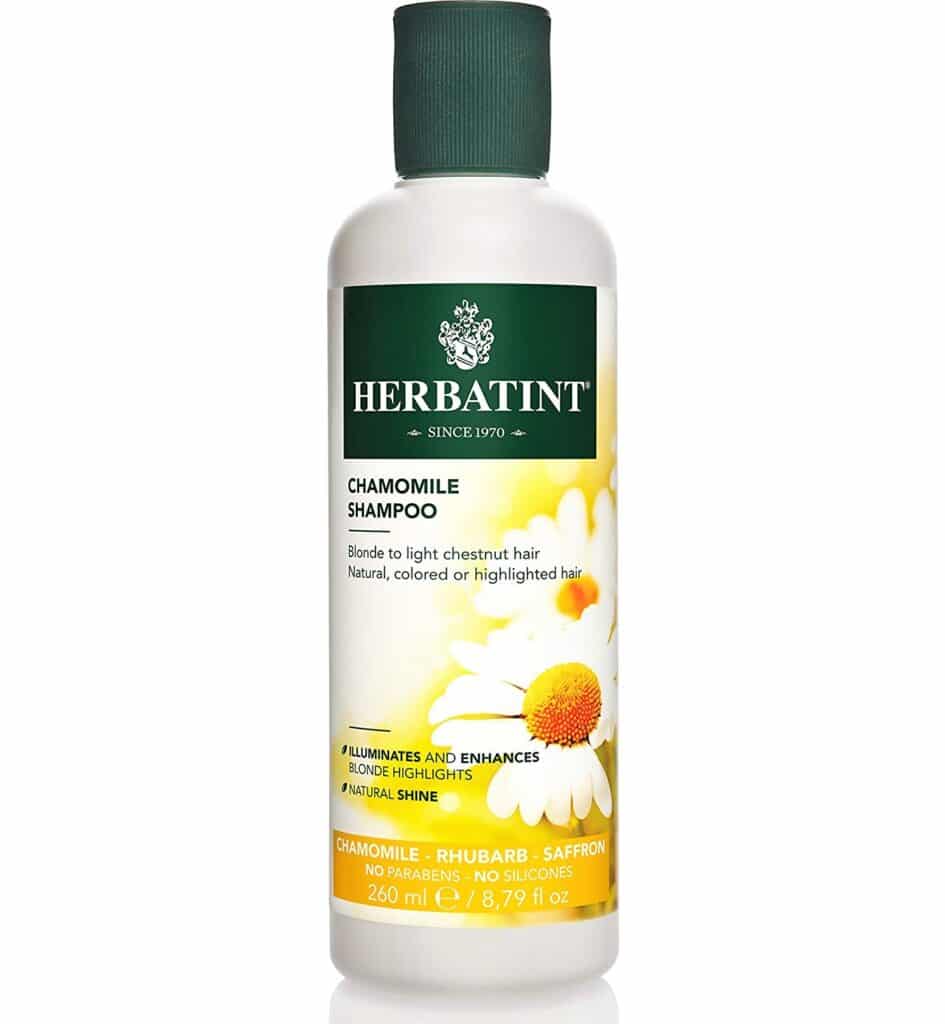 No damaging ingredients
Naturally ligtening hair
Dermatologically tested
Cleansing and soothing hair
With added saffron and rhubarb
Enriches blonde highlights
Herbatint shampoo provides you with glistening hair while preserving the quality of your hair. The distinctive natural combination of Chamomile, rhubarb, and saffron extract complements the shine of both blonde and light brown hair.
So if you want the lustrous hair of the magazine models that you envy all while preserving the PH level of your hair, then this shampoo is all you need. The most remarkable is the botanical origin that makes it the best chamomile shampoo to lighten the hair.
It is easy to use with a simple set of instructions, not something difficult as colo treatments you get at salons. You can easily apply it to wet hairs and gently massage your hair strands afterward rinse them with water. If you want more optimal results, the herbatint haircare line provides many products to pair with shampoo. 
It's a shampoo that lightens hair naturally with non-added paraben and chemicals, restoring your hair's softness. It is specifically made for all hair types, including natural hair, color-treated hair, or highlighted hair.
Herbatint shampoo comes in an 8.79 Fl Oz bottle at a very economical price. In addition, it protects your hair strand from drying out or any sort of brassiness. If you're one of those who like good smelling hair, then this is your shampoo; it will give your hair a pleasant aroma making you feel good.
The most attractive feature is its formula which tends to hit all the areas of improvement for any hair type. Most importantly, it cleanses and moisturizes hair leading to no room for dryness. So now, when you think of the best chamomile shampoo to lighten hair, herbatint will surely strike your mind. Moreover, if you pair it with an herbatint conditioner, you will get that perfect shiny look and soft feel.
Pros:
Natural formula
Dermatologically tested
Maintains PH level
Cons:
Fragrance could be a problem for some peoples
4) LANZA Healing ColorCare

Contains amino acids and ceramides
Provides hair protection
Paraben and sulfate-free
150 ml per bottle
Hair healing treatment with a lightweight formula
Extends life of hair color treatments
Clinically proven
L'ANZA Healing ColorCare uses natural Chamomile to reduce split ends and hair breakage, intensifying hair's softness and highlights that make it the best chamomile shampoo for lightening hair. This natural chamomile shampoo is for sparkling blonde, grey, silver, white and black hair.
It perfectly works on all hair types giving your hair a posh look. It also revitalizes the hair strands left stranded due to the hair color treatments you have most likely undergone. In addition, it moisturizes and cleanses them of all the chemicals, plus eliminates the dryness of your scalp.
The L'ANZA Healing ColorCare has been given the characteristics f a flower that never fades its colors even in the harshest conditions, e.g., UV lights. Therefore, L'ANZA Healing ColoeCare products, just like flowers, have the quality to preserve the hair color and quality. Moreover, it provides the most robust defense mechanism against the color fading of hair.  
The L'ANZA researchers have formulated a versatile and light formula that gives you a shampoo that could easily be used in your daily routine without damaging your hair. The added amino acids, tyrosine and ceramide 2, provide you with the longevity of your hair color while preserving your hair softness and thickness.
Additionally, the researchers have proved that this best chamomile shampoo to lighten hair extends hair color life by 107%, making it a top-notch choice. Furthermore, when used with L'ANZA conditioner, the quality of work could be much improved.
Moreover, it is free of chemicals, which gives your hair a healthier lather. In addition, it contains lavender toners, which reduce all the brassiness in your hair. L'ANZA healing color care shampoo also comes with an added ingredient of gugo bark for a more prosperous and lustrous look to your hair. In more specific words, this shampoo is the key to all your hair-lightening issues. It is a natural chamomile shampoo providing you with many benefits.
Pros:
Works fine on grey, blonde and white hair
Non-chemical and non-parabens
Removes brassiness
Sulphate-free
Added lavender and gugo bark
Cons:
Some people complained that it didn't clean hair properly
Heavy build-up
5) Manzanilla Shampoo Lightens Hair

Bottles come with a 13.5 FL OZ shampoo
It helps in improving the volume
Helps in reducing dryness
Provide multivitamin for hair
Chemical-free
Contains nutricomplex Q10
Manzanilla shampoo for lightening hair can be your shampoo buddy before going to work or the kitchen. Its natural ingredient can easily be used alternatively, giving your hair all the nourishment it needs and bringing them to life. It brings you chamomile extraction in its purest form that gives your hair all the food it needs.
The Manzanilla shampoo comes in an improved and more complex structure with Nutricomplex Q10, enhancing the hair quality and quantity, making you fall in love with them repeatedly. Some people have reviewed that this chamomile shampoo does work but would use it sparingly because its overuse might dull your hair.
Hence proved that it could not be your daily go-to shampoo like you have as an option other than chamomile shampoo. This shampoo can brighten your hair on a dull day, well, not just boring days but for a more extended period than any hair color treatment.
Manzanilla shampoo lightens hair with the chamomile ingredient it contains. Rather than parabens and silicones, it uses proteins which is a much better and healthy option for your hair while making it the best chamomile shampoo to lighten the hair.
It detangles your hair, making them easy to comb. The Manzanilla shampoo also has a recovery component that helps recover your hair from all the chemicals added to hair treatment. These shampoos prevent your hair from drying out and causing any dandruff while making it the best chamomile shampoo to lighten the hair. The chamomile flower added provides exclusive lightening of hair.
Pros:
The added formula of Nutricomplex Q10
Prevents dandruff
Cons:
Strong odour
Over usage can dull hair
Benefits Of Chamomile Shampoo To Lighten Hair
Chamomile shampoo, compared to other shampoos, is gentler to your hair. Let's dig deeper into the benefits of using the best chamomile shampoo to lighten the hair.
Chamomile Shampoo Helps In Lightening Hair:
Hair fashion has always been the talk of the town, whether it be hairstyles with classy buns of the 90s or beachy waves of the 20s. Nowadays, the hair fashion game has been taken to the next level with the immense hair treatments available at salons, be it hair dyes, highlights, or bleaching hair.
They all might look fantabulous on you, but the amount of chemical that goes into them destroys the hair, but we have got you covered with chamomile shampoo. It is a natural and herbal shampoo.
Chamomile shampoo is a natural way to lighten those highlights and dyed hair. Chamomile has natural ingredients, apigenin, that does not harm your hair's cuticles and preserves your hair's strength and quality while giving you a light shade. Of course, the cherry on top is the natural golden glow it gives to your hair.
Prevents Split-Ends And Adds Luster To Your Hair:
Excessive hair treatments and chemical-filled shampoos can cause split ends which are very harmful to your hair. Chamomile shampoo helps prevents dryness of the scalp, which stops split ends from occurring. It's packed with vitamins and minerals that revitalize your hair and give them a shiny and radiant look.
Chamomile Shampoo Nurtures Hair:
If you're constantly struggling with hair loss and brassy hair, then chamomile shampoo is the answer to your problems. All you need is a good chamomile shampoo to give your hair a rich and lustrous hair look. Chamomile cleanses and moisturizes your hair, soaking the moisturizing in your scalp and locking them up.  
It also works as a protective shield when you're out in the sun, protecting your hair from sun, UV light, dust, and dirt.
Stimulates Hair Growth And Strengthening:
Sadly, famous brands with expensive shampoos are filled with harsh chemicals that destroy your hair from the roots. To preserve your hair for a long time, you need to use organic shampoos like chamomile shampoo, which gives you immense benefits with the ingredients it contains.
The chamomile flower is a powerhouse of minerals and vitamins. It repairs damaged cells and protects your scalp and roots from the outside harmful agents. Chamomile shampoo gives your hair a long-lasting, lustrous look.
Chamomile shampoo refines the hair strands and gives them a shiny and healthy look. In addition, it promotes hair growth and halts hair fall.
Chamomile Shampoo Decreases Dandruff:
Have you ever noticed the white flakes on your shirt and the constant scratching of your head? Well, you're most likely be facing dandruff. That might not be very comfortable, especially in a crowd. Well, we have got you covered; chamomile shampoo is the answer to all your problems.
Antioxidants are the main component of the chamomile flower which help remove dead skin and cleanse the scalp. This way, chamomile shampoo saves you from dandruff and itchiness. It also reduces bacteria growth on your scalp. 
Buying Guide: Look Out For Added Chemicals Like
Before making your final verdict on which chamomile shampoo to buy for lightening your hair, it is recommended that you through these factors first;
Sulfates:
Sulfates are usually used for cleaning oil and dirt and are used in detergents. It is a harmful chemical that can harm your scalp and hair. It absorbs natural hair moisture drying it out, causing other dandruff and split ends. So, before buying a chamomile shampoo for lightening hair lookout for the ingredients carefully; mainly, shampoos have added sulfates in them.
Parabens:
Parabens is the most harmful ingredient to avoid in hair care products. Paraben is like xenoestrogens which resemble human hormones. It is most likely to disrupt the hormonal system of the body.
Fragrances:
You need to look out for any artificially added fragrances. They might be harmful to your hair as they are artificially added. If essential oils are added, that is a much healthy option than artificial fragrances. Lookout at the package for any fragrance added.
Triclosan:
Triclosan is added chiefly as preservatives in hair care products. It can cause problems with your immune system as it can disrupt your endocrine. It can further cause an issue in cell reproduction and weight loss. Do check the package for any added triclosan.
Polyethylene Glycol:
Polyethylene can disrupt bodily functions. It may hinder your physical development as a developmental toxicant. Moreover, this chemical is contaminated by dioxane, a cancer-causing agent.
So kindly read the ingredients of the bottles diligently before buying the best chamomile shampoo to lighten the hair.
Summary and Our Top Picks
Our favorite top pick has to be Klorane shampoo; the brand sells throughout the countries and has made a respectable position in the market with its quality products. It has proved to be the best chamomile shampoo for lightening hair. In addition, it gives you a natural product free of any harmful chemicals.
Our second favorite pick is Manzanilla Crisis shampoo because of its rich and unique formula composite of Chamomile and nutricompex Q10, which helps in giving you healthy and lustrous hair. Moreover, it saves your hair from dryness and split ends. 
With that, we are concluding our article and have provided you with a plethora of information for buying the best chamomile shampoo to lighten the hair. Consequently, we have provided you with the top five products to choose from so that you can have a clear-cut idea and can make a well-informed decision about the health of your hair.
Related Common Queries
What Is the Best Way to Use a Chamomile Lightening Shampoo?
Chamomile shampoos are used as any other shampoos. You can use it daily, but keep in mind to read the description before using it routinely.
How Long Does It Take for Hair-Lightening Shampoos to Work?
On average, hair lightening takes 3-4 months. Some might take more time, but the average is three months.
Is it possible to lighten the color of your hair using shampoo?
Yes, for sure it can. The chamomile lightening shampoo works so that it gets rid of the build-up in your hair and diminishes pigments in hair strands. That lightens your hair.
Is it true that Chamomile lightens hair without the use of the sun?
Mostly the lightening shampoos are equipped with Chamomile, which usually helps the lightening of hair strands. Sun aids the Chamomile in the lightening of hair. However, without the sun, strong Chamomile would do the trick.