Caring for combination skin is a tough job. You have a blend of oily and dry sections of skin around your face. Usually, the forehead, nose, and chin tend to be oilier with more prominent pores. At the same time, the other parts of your face are dry. Unluckily, Moisturizers individually meant for dry or oily skins don't execute the job. To help you jump over this problem, we provide you with a list of the best Korean moisturizer for combination skin.
Moisturization is a huge part of good and healthy skincare. If you frequently moisturize your skin, you know that it goes a long way in protecting and emitting a fresh look. A good moisturizer would keep your skin cells healthy and fight off any acne buildups or other skin problems.
For combination skin, you have to pick out specific products for your winter skin care. Trust millions of customers and us when we say that K-Beauty skin moisturizers will probably be the best decision you make for your confusing skin type. With amazing innovation, natural, authentic ingredients, and consistent results, Koreans have been increasing their market influence on beauty products.
So, it's safe to come along with us; let's explore some of the fantastic products in the world of K-beauty. By the end of this article, you'll be one step closer to helping out your combination skin.
Here are our top picks of the best Korean moisturizer for combo skin.
Top 5 Best Korean Moisturizers for Combination Skins
Nature Republic Super Aqua Max:
Key Features: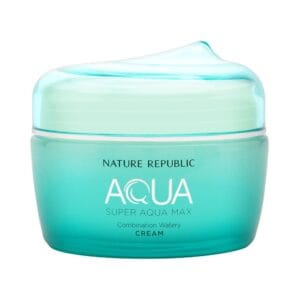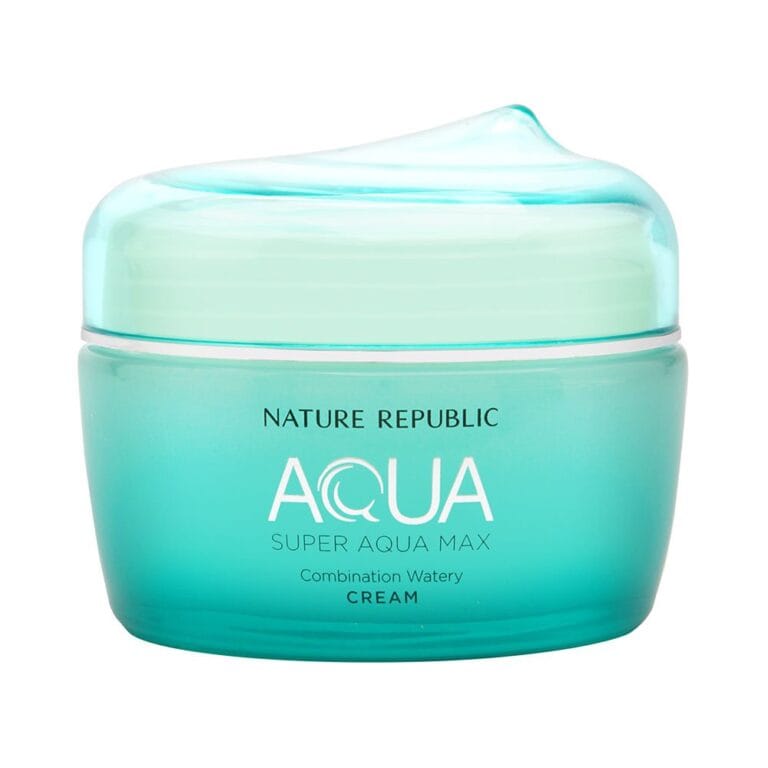 Weight: 159 Grams
Volume: 80 ml
Watery cream
Natural Marine extracted plants
Suitable for Combination skin
The Nature Republic Super Aqua Max is a one-of-a-kind moisturizer. Its cream is water-based and completely light, which allows it to set on your skin with ease. The bottle contains up to 80 ml of cream. The Aqua Sherbet system does a fantastic job of fulfilling and maintaining a layer over your skin to keep you safe from environmental factors.
Nature Republic Super Aqua Max is what all K-beauty products are all about! Which are unique, high-quality ingredients. Super Aqua Max uses mineral-rich seawater and more than 30 extracted plants from the deep depths of up to 900m+ in the Hawaii Kona ocean. These ingredients do a fantastic job of fully immersing your skin and nourishing and hydrating it.
The effects tend to last for 24-27 hours. The fragrance is refreshing too. The Super Aqua Max line has moisturizing creams for dry and oily skins too. But since we are covering for the ladies with combination skin, therefore we picked this variant. It will nullify your skin conditions and make it all look smooth and fresh. It's a budget-friendly Korean moisturizer for combo skin and is safe to use on sensitive skin too.
Pros:
Smooth Light texture
Long-lasting moisturizer
Budget-friendly
Premium Plants extracts
Cons:
The scent may seem a bit too strong
It'S SKIN Hyaluronic Acid Moisture Cream:
Key Features: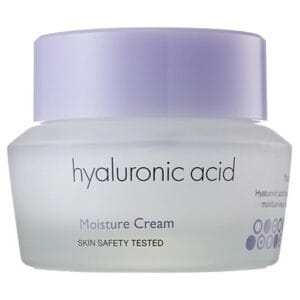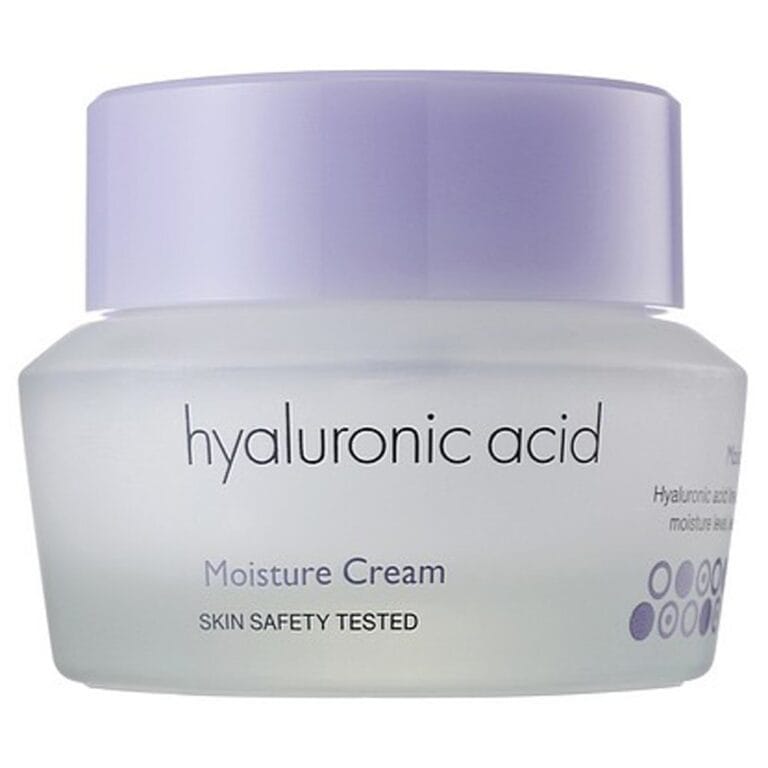 Volume: 50 ml
Hyaluronic acid
Skin safety tested
Soft texture
The It'S SKIN Hyaluronic acid cream had to be mentioned on this list. Its SKIN moisture cream comes in a simple bottle packing with a purple cap. The bottle contains up to 50ml of moisturizing cream.
Hyaluronic acid does a fabulous job of concealing your skin and defending it against dryness and oil buildup. Just like the Nature Republic Super Aqua Max, this is also water-based and very light textured. This allows it to fully set in and do the job for an extended period. After some tests, we've seen it performs exceptionally with greasy and dry skin and creates an excellent overall blended look of your skin after application.
Hyaluronic acid keeps the acne buildup under control by contracting the pores and keeping them clean from dust and oil.
Other than the basic properties of a moisturizer, the It'S SKIN product also soothes and eases the skin and fixes blemishes by significantly enhancing the texture of the epidermis. The moisturizing cream is easy to apply, and it will give off soft touches right after application. This moisture cream is a great durable cream with a sweet fragrance. However, the price is slightly higher and the quantity lower than the Nature Republic Super Aqua Max.
Pros:
Prevents acne buildup
Lightweight
Safe for sensitive skin
It makes skin soft and pulpy
Cons:
Not a reasonable price to quantity ratio
COSRX Oil-Free Ultra-Moisturizing Lotion:
Key Features: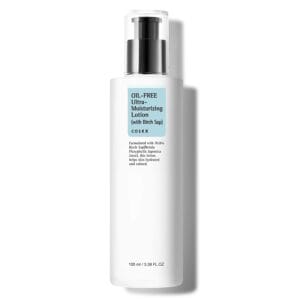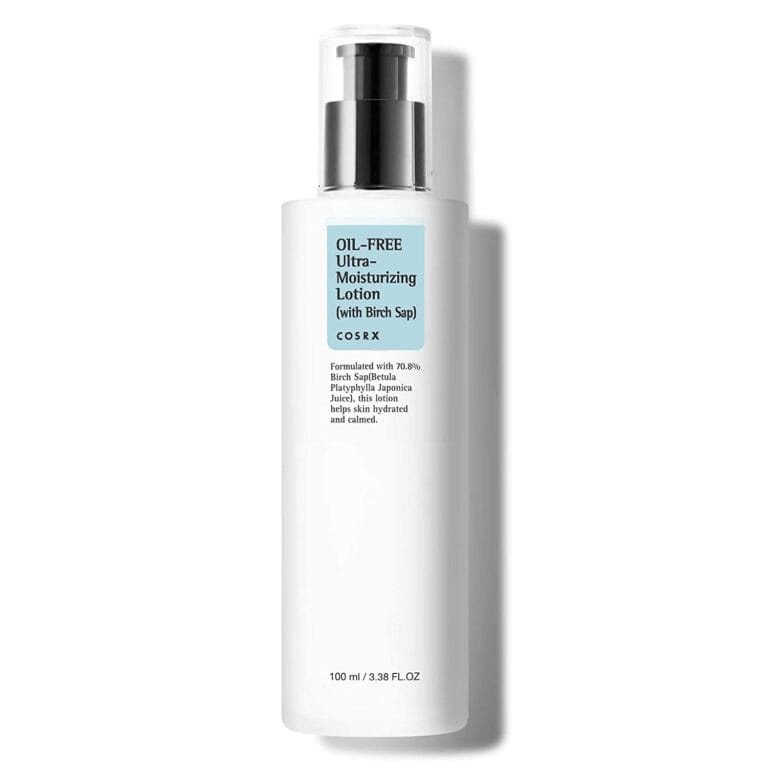 Volume: 110ml
70% willow bark water
Feathery texture
Suitable for all skin types
Vitamin's inclusion
Cruelty-free
The COSRX oil-free moisturizing lotion is dermatologist tested. That ensures you that it's a safe product as the best Korean moisturizer for combination skin. The dryness and greasy skin base can get quite annoying, but the COSRX makes a great effort at making the skin texture better in the longer run. The bottle holds 110ml of the cream, which is significantly higher than the last two products we reviewed. The push-to-release mechanism makes it much easier to use than the other mentioned creams.
The included vitamins generate healthy cells on your skin and even protects you from further skin problems. There is another unique ingredient in the making of COSRX moisturizing cream. They use birch sap water, which is natural. Do not worry about that; it helps in recovering spots and marks on the skin. Which will help you look younger.
The cream may come as it's meant for oily skin, but it performs decently with all kinds of skin types, especially combination skin. The cream lotion thoroughly hydrates the skin on the legs and arms and protects it from all sorts of complications. And the oil-free production method allows it to give a smooth and glossy look simply. It won't leave a trace of any greasiness on your skin.
This product is highly recommended, its clean and straightforward formula won't disappoint you, and you will notice your skin looking younger and cleaner within days! 
Pros:
Paraben-free
Natural and clean output
Easy to use bottle
Birch sap helps maintain adequate hydration of the skin
Suitable for both day and night use
Cons:
It may not suit some sensitive skins
DearKlairs Rich Moist Soothing Cream:
Key Features: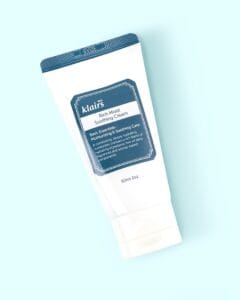 Volume: 60ml
All season friendly
Suitable for sensitive skins
Cruelty-free
Vegan-friendly
DearKlairs Rich Moist Soothing cream is by far the most balanced and all-rounder moisturizer cream on this list. The cream is suitable for anytime all year long; no matter what the season is, it will still carry out its job of protecting and blocking your acne and blackheads. The product itself carries 60ml worth of cream, which is subpar as compared to the other options.
DearKlairs made a great move by hitting the niche market with this cream. It is prevalent among people with sensitive skins!
Regardless of that, the DearKlairs Rich moist cream is pretty convenient because it comes in a squeezable bottle. It effectively lowers the temperature for people who have heated or oily skins by keeping the skin cool, the pores get restricted, and acne or blackhead buildup is blocked. It also hydrates the skin, and its unique liquid ingredients help it maintain and circulate hydration for more extended periods.
The DearKlairs cream helps with the anti-aging process too. The soothing cream, which contains shea butter, will not only soften your roughed-up skin but will also make it smooth, young, and refreshing. This moisturizer cream is undoubtedly one of the best convenient options to choose from out of all the other best Korean moisturizers for combination skin. However, the DearKlairs Rich Moist cream is the highest priced on this list.
It is undoubtedly one of the best Korean moisturizers for dry aging skin!
Pros:
Young and bright skin
Convenient bottle
Great for sensitive skins
Suitable to use in all seasons
Cons:
Etude House Moistfull Collagen Cream:
Key Features: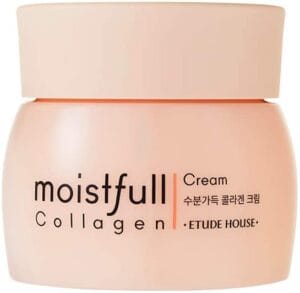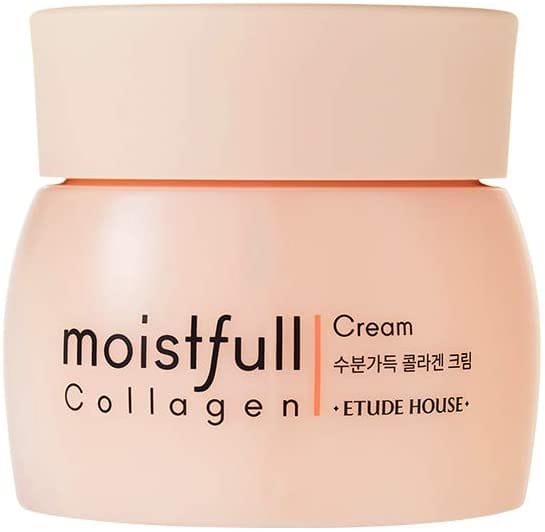 Volume: 75ml
Clinically tested
Suitable for all skins
Free of oil
Even though Etude house is well-known for its cosmetic collection, that didn't stop them from making it into this list with the Moistfull Collagen Cream. Their moisturizer cream is apricot colored and smoothly moisturizes the skin when applied in smooth motions. It's the first cream on this list that contains collagen water.
Collagen water is excellent for nourishing and refreshing the skin and paired with the white lupin, the cream gives out a soft, youthful skin base. It gives off a refreshing scent, but sadly it doesn't last too long. The hydrolyzed collaged also helps in preventing wrinkles, fine lines, and blemishes.
Since its gel toned cream, it can last up to 100 hours on clean skin. This durable, award-winning product was an obligation in this list. The cream helps to make your skin bubbly and fresh. The dryness will be filled with the appropriate amount of hydration, whereas it will nullify the oily parts thanks to the cream being oil-free. The solid layer of Etude house Moistfull moisturizer will help in keeping dust from settling on your skin.
Etude House Moistfull moisturizer is one of our top recommendations for an affordable Korean moisturizer for combination skin. Etude House has won awards such as the Best humidifier in 2020.
Pros:
Lightweight and smooth cream
100 hours long-lasting
Collagen water makes the skin soft and young
Low price
Cons:
It causes breakouts for some sensitive skin cases
Purchase Guide For Korean Moisturizer For Combination Skin
Combination skin requires great care. It would be best if you had the perfect balance in a moisturizer cream to tackle the dryness and the oiliness at the same time. Even though we've listed out some tried and tested good K-beauty moisturizers for you, it's still wise to go through some factors before buying your moisturizer cream.
Skin Condition:
Yes, we know this article was all about combination skin type. But even if you have combination skin, there's a high chance your skin is way different than other people with combo skin. These skin conditions are based on weather, diet, essential skincare, etc. So, before you buy a specific moisturizer cream for yourself, it is suggested that you pick the one that suits you. If you have sensitive skin, for example, you'll want to look for lightweight gels.
Ingredients:
K-beauty products have a wide range of ingredients in them. Even if they're taking the world up by a storm, you should still go through the ingredients listing because some might end up affecting you, such as creams that contain sulfates, mineral oils, or alcoholic substances. For combination skin, it's recommended to look for ingredients like hyaluronic acid, antioxidants, or raw natural plant extracts.
Intended Use:
Some people like using moisturizers once a day. On the other hand, some want to use it multiple times in a single day. It would help if you decided the frequency of use before making the final choice because not all creams are meant to be applied more than once a day. Skin-friendly and gentle creams are more suitable for multiple uses, ensuring that excessive use won't give you irritations.
Korean Moisturizer for Combination Skin FAQs
What is the ideal time to apply moisturizer to your skin?
Suppose you're applying moisturizing cream once a day, then it's best to put it on after taking a shower. After a shower, your skin is cleaned up, and your pores are refreshed; this is the perfect time to add up a moisturizer layer so your skin stays safe and clean. You can also apply it just before laying down to sleep at night.
What's the proper way to apply a moisturizer?
The first most crucial step before you apply the moisturizer is to clean your face. After that, you can put a small dab of lotion and spread it around between your palms. Now apply the moisturizer with your fingers in circular strokes to the spots which need it the most. You can spread it evenly afterward and wait for it to blend into your skin. 
Why are Korean moisturizers highly recommended? 
The K-beauty products takeover isn't slowing down at all. Their products regarding skincare are loved by a lot of people and give out solid results. Koreans like to care for their skins by using authentic and natural ingredients. The Korean moisturizers give out the best youthful, fresh, and healthy look. Therefore, no matter what skin type you have, you can never go wrong with an appropriate Korean moisturizer.