Suppose you end up having cramped feet arches during your runs or your heel aches after walking for extensive periods. It is surely the right time to consider and choose an excellent arch support shoe for you, which is precisely why we have penned down this list of the best men's walking shoe with arch support.
Arch supports inside your shoes may not look so important to you. But throughout the years and innovation in shoes, the arch support plays a huge role in caring for your sole. That makes them a really important addition to have inside your shoes.
The arch support shoes are not only crucial for runners, but they go a long way on a day-to-day basis too. The reason behind the essence of the arch support is that it balances and equals out the proportion and division of weight on your feet. This helps in preventing problems like heel spurs, ankle sprains, and plantar fasciitis (intense heel pain due to inflammation)
If you're a runner, buying an arch support shoe will also help absorb the shock while running comfortably. This keeps your feet safe and injury-free.
What are the best walking shoes with arch support? To help you find the answer to that, we insist you go through our quick and detailed review of some of the best men's walking shoe with arch support.
Top 5 Men's Walking Shoes with Good Arch Support
1) Merrel Jungle Moc Men's Walking Shoes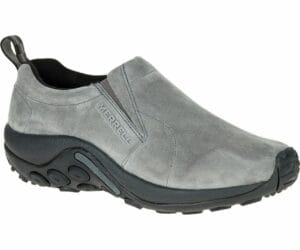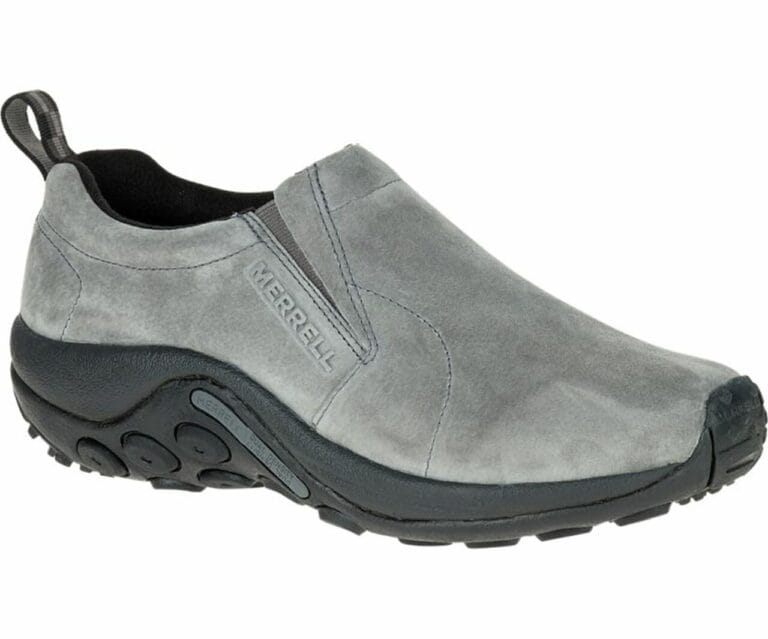 Key Features:
Weight: 1Lb 9oz
Lug Depth: 3mm
Mesh lining good ventilation
Pig suede leather
Suitable for Normal Arch
The first shoe to make into our list of the best men's walking shoes with good support is the Merrel Jungle Moc. These easy to wear slip-on shoes are great for daily casual use. The sole is synthetic, which makes them suitable for jogging as well. The sole is purely black, and the upper is made out of grey pig suede leather.
The look is as simple as it can get. That makes this shoe a great option to wear with anything. The slip-on feature with a pull strap makes it super-efficient to put on. Merrel has applied their air cushion to help absorb pressure at your heel. The air cushion also makes it comfortable for shoes to walk in.
All in all, they are pretty clean and straightforward-looking shoes. The lug depth of 3mm maybe a little less for running, but it's enough for daily walking use. Available at a reasonable price, they sure were omissible from this list.
2) New Balance M990v4 Walking Shoes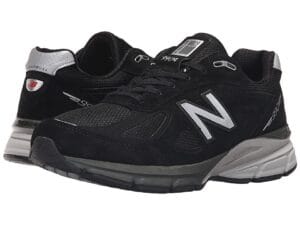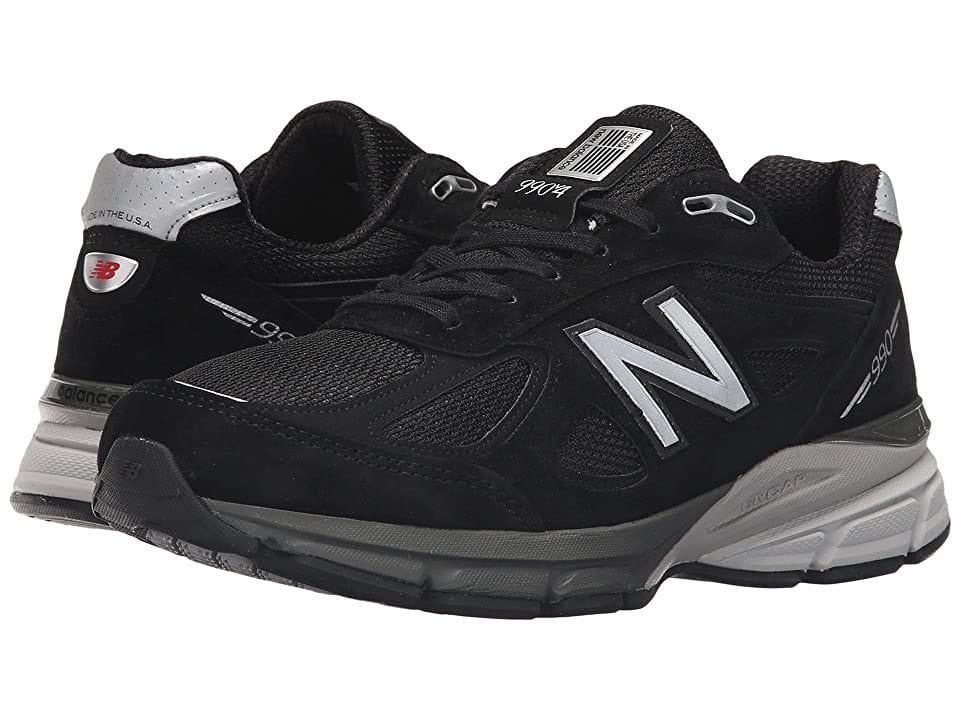 Key Features:
Weight: 368 grams
Rubber Sole
Lacing Shoe
Multiple color options
Pigskin suede leather and mesh lining material
Suitable for Normal Arch
New Balance is a well-known brand when it comes to sports apparel. Their shoes have in the running popularity for years now. It wouldn't be wise to leave out a brand that produces impressive user-friendly shoes. The M990v4 comes in various colors. The cleanest looking is the black silver edition. The shoe is made out of pig suede leather and meshes lining on top to ensure ventilation.
The shape of the sole is suited to normal arch people. The dual-density collar foam gives some unique comfort sensation to your feet even if you're running. The M990v4 is a lace-up shoe, which allows preferred fitting.
These shoes are notable for arch support. A good lug depth also keeps your heel safe. People with normal arches can get benefit the most from the M990v4. The shoe itself is decent looking and can worn daily or during jogging sessions. When it comes to durability, you won't be disappointed with the New Balance M990v4. It can easily support you for years!
3) Skechers Arch Fit Shoe with Arch Support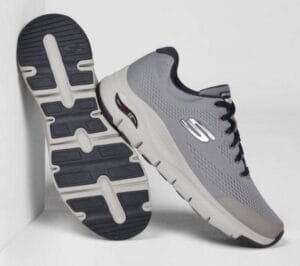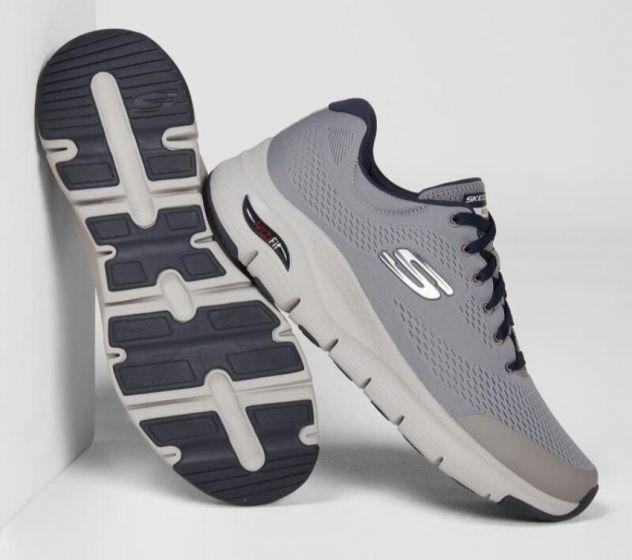 Key Features:
Weight: 340g
Lacing shoe
Ethylene-vinyl acetate sole
Stability Arch support
Breathable mesh material
Available in different colors
Skechers Arch fit must be mentioned in this list of the best men's walking shoe with arch support. Skechers is a trusted and durable brand that makes excellent shoes. Their arch fit edition is worth checking out if you're keen to make a difference and improve your feet' comfort ability. The Skechers Arch fit is probably one of the most comfortable shoes we've tried on a budget.
The logo of Skechers on the upper side gives a neat, clean look. The outer and inner materials are all synthetic. The sole is made out of ethylene-vinyl acetate, which does a fantastic job suppressing the sound even if you're running. The shoes are a must-have in your daily and running shoe collection. They are highly durable and fit perfectly around the feet. The normal arch support focuses on stability, so your feet won't feel any tiredness or pressure even after hours of using them.
The lug depth of 1.5 inches helps in absorbing the pressure on the heels. Compared to Merrel's Jungle Moc, the lug depth is almost an inch deeper. These shoes are machine washable. If you're an active person and were looking for the perfect blend of casual and active wear shoes, then this is it for you! The only slight problem with these shoes is that they might feel a bit hot during the summer.
4) Brooks Levitate 2 Best Men's Shoe with Arch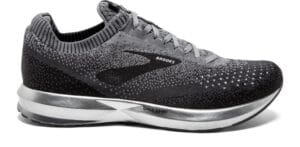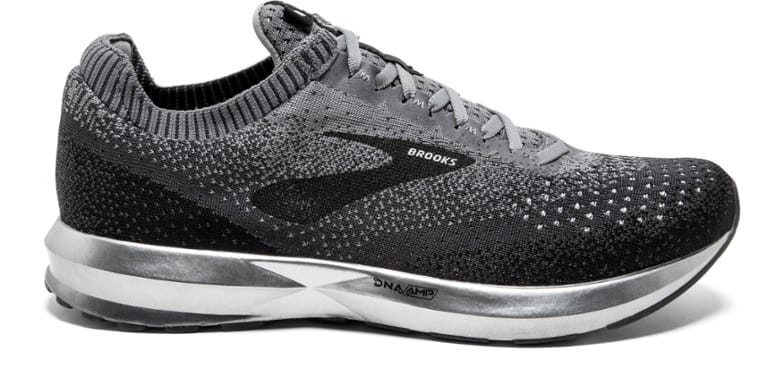 Key Features:
Weight: 317.5g
Supports medium-high arch
Lug depth: 8mm
Transitional sole pattern
DNA AMP sole cushion
Brooks Levitate 2 stays true to its name and will make you feel like you're levitating during your jogs. This highly comfortable shoe is available in some fantastic color combinations. The outer material and sole are made out of rubber which allows great suspension during runs. The outsole has an innovative design that helps to transition your feet while you run.
Most of the shoes we saw by now supported normal arch types. The Brooks Levitate 2 support normal and high arch types. High arch type is a rarity, but this is a must-buy for you if you have a high arch. It's even more important to distribute the weight when you have a high arch. This shoe will help you immensely with that.
Brooks claims to have added a highly responsive midsole to the Levitate 2. The DNA AMP cushions your feet and controls your motion with precision. It also goes hand in hand with your energy during running. Some of the colors from Levitate 2 have a fitted collar that fully wraps around your ankle to get a firmer grip. The price to performance ratio makes Levitate 2 quite a steal.
5) Under Armour Surge 2 Men's walking Arch Shoe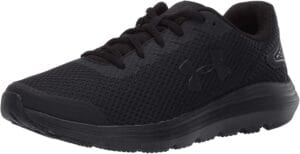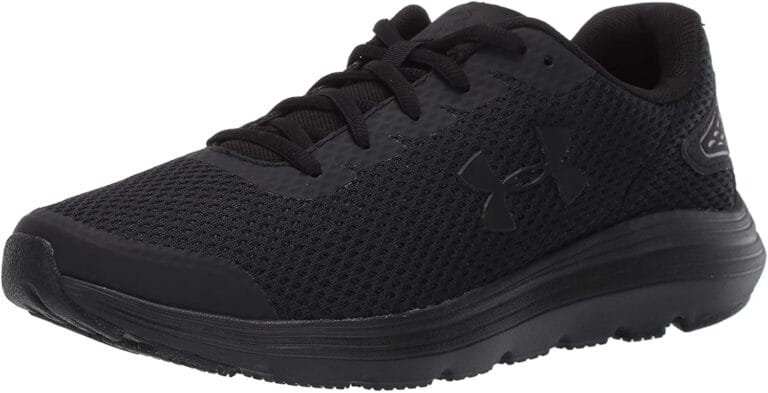 Key Features:
Weighs: 245g
Normal arch support
Mesh lining
Supports flat-high arch types
Lug depth: 8mm
Suitable for road running
Under Armour is a high reputation brand. With so many significant sports deals worldwide, you know their product suggestion is not meant to be ignored. With that said, we present you the Under Armour Surge 2 shoes as one of the best men's running shoes with arch support. The Surge 2 is available in multiple colors on Amazon, but we picked the all-black version simply because you can never go wrong with black.
The Surge 2, just like the Skechers Arch Fit, comes in a fully synthetic-made body. The sole is made out of rubber to help with smooth suspensions while being used. The heel is flat, which makes this our first shoe on the last with a flat base.
Also, the inner sole is shaped for normal arch types.
The lace-up black-colored Surge 2 is a fantastic choice to worn casually or for jogs. You won't feel clustered or warm even after extensive use because the mesh lining does an outstanding job as a good air passage.
The Surge 2 primary purpose is suited for road running. So, if you're someone who doesn't have easy access to a jogging track or a park, then this is a great option to pick out of the rest. As it is suited for road running, rough terrain running can cause it to tear over time.
Buying Guide For Best Men's Walking Shoe with Arch Support
As it's the case with any purchase in life, you should be fully aware of some critical markers. These factors will help you out in picking what's best for you. Even though we've listed some of the best men's walking shoes with arch support, the final decision relies on you. And we want you to handpick what's best for your feet. Therefore, we'll list out some standard pointers that you should think about before making your purchase.
Arch type:
You must have noticed that we kept mentioning if the shoe was suitable for flat, normal, or medium-high arch types. A flat arch type is where the base of your feet fully touches the flat ground beneath you. A normal arch type is when the sole is slightly elevating around the middle of your foot. In contrast, the medium-high arch type means that the same elevation is much higher. You can quickly figure out your arch type by placing your foot in a sand-filled box and then examining your footprint.
Purpose of Use:
The next factor depends upon why you want the shoe with arch support. If you're planning to use the shoe for casual daily use, then you can minimize the sporty shoes and focus on the ones that prioritize comfort and basic use. If you tend to support your arch during running, choosing a shoe with good lug depth and active wear designs would be suitable.
Upper Lining:
Breathability is a factor a lot of people ignore. The material used for the upper lining of your shoes is worth noting. If you live in a hot area, a shoe with net lining will suit you as it allows good ventilation. If heat isn't much of a problem, then you should choose a shoe with a much sturdier material. Either way, the comfort of your feet should be your priority.
Men's Walking Shoe with Arch Support FAQs
Are supported arch shoes necessary? 
In most cases, the answer to this question is yes! The arch, which is the sole of your feet, is responsible to fully carry your weight while you walk, jog, or run. It's essential to divide your body weight into your whole sole. If only a particular part of your feet carries the weight, then you will end up experiencing heel pains, plantar fasciitis, or even pulled muscles during runs which can be painful.
Are high arches better than flat feet?
Both high arches and flat feet have their problems. So, it's not easy to decide which one is better and which isn't. With high arch types, more support is needed from a shoe to distribute the body weight. A flat foot may seem safer, but it is way less stable and needs a shoe with good stabilization features. Luckily all these brands are pulling out amazing shoes for all kinds of arch types.
What is an easy way to check if a shoe has good arch support?
You've probably seen people check the arch support without realizing what they were doing. The simple test of grabbing a shoe and twisting its toe cap towards you and its heel outwards will help you judge the quality of its arch support. The stiffer the shoe feels when turning, the better the arch support will be on it. 
Takeaway
We're all done with our complete guide and analysis of some of the best men's walking shoe with arch support. We reviewed varying shoes with different qualities but staying consistent with the fact that they will help your arch. These shoes will indeed look after your soles and arches. It's never too late to make a good buy that benefits you and your body, so we hope these shoes helps you find recovery and comfort from any heel pains and sole discomfort.