Vinegar has the best quality, especially in the balsamic vinegar form. Most of the people ask does balsamic vinegar go bad? or have its expiry date? and what its shelf life.
Real balsamic vinegar is made from Trebbiano grapes. Its rich brown color comes from ageing in wooden boxes, often for decades. Although it made from grapes, it is not made from alcohol like wine vinegar. The actual product should not contain any alcohol vinegar. Grape juice directly converted into vinegar.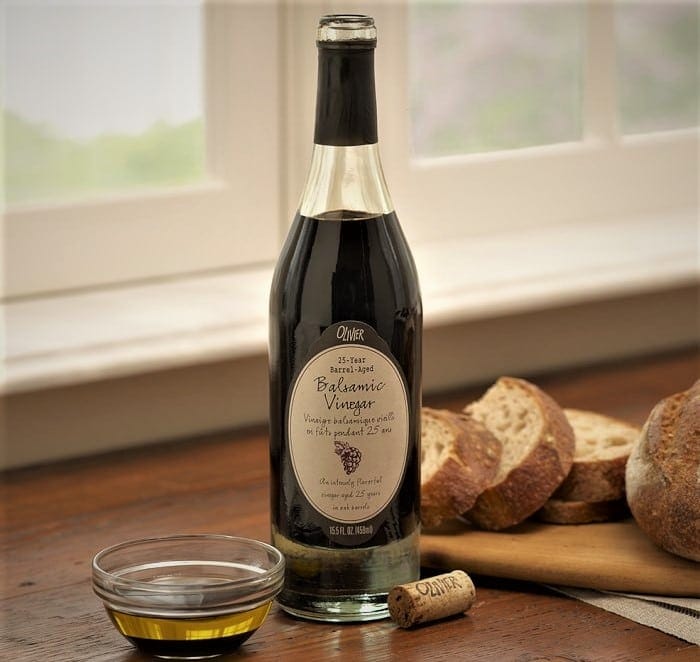 It does not go bad unless it is contaminated or often exposed to heat. Over time, this becomes cloudy, but that does not mean it has gotten worse. Don't afraid if it turns grey, taste it and see if it's spoiled.
The general taste of balsamic vinegar is mildly acidic with sweetness. If it starts to taste too sour and bitter, the quality will probably depreciate.
Shelf Life of Balsamic Vinegar
Traditionally made balsamic vinegar generally has a longer shelf life. Some of them are passing down through the generations of the family. Those kinds of vinegar are less commonly using in drops, and their taste will increase over time if kept properly.
Some high quality, aged vinegar kept for up to 150 years, but they are rare that you will rarely see on the market.
Balsamic is best in cool, dark storage spaces. You can use chill vinegar primarily for salads. If you use them for sauces and meats, store them on the shelf. The shelf life of balsamic vinegar should be 3-5 years.
Balsamic vinegar has no expiration date and can store frequently.  It's always good to taste meats, salad dressings, etc., before you use them, so you know how good the quality is before using them.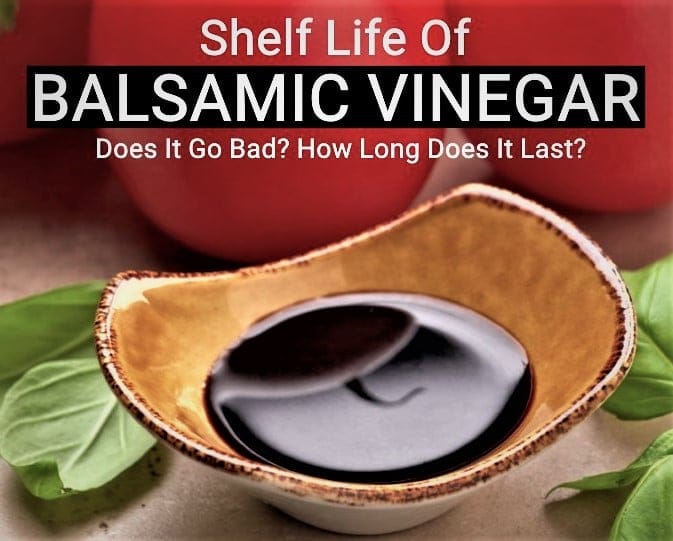 How long does balsamic vinegar last after opening? 
Unlike many sauces that do not have a long shelf life, it is not regular. Generally, good quality ones can last and keep well, so they are safe for consumption.
Instead of depreciating over time, balsamic vinegar is better than age. The older the vinegar, the better it will taste. If there will a drop in quality and you did not get satisfied with the taste.
It has many grades, but the real ones made from Lambrusco and Trebbiano grapes. For a long time, they age in wooden barrels and become dense, rich and dark brown.
Their optimum shelf life is 3 to 5 years to one to two years for commercially produced balsamic vinegar. After some time, they are still consumable.
Related Post: Best Oil for Cast Iron Seasoning
Balsamic Vinegar of Modena
Balsamic vinegar is one of the most in-demand products in the world. To qualify as the highest quality, traditional balsamic vinegar of Aceto Balsamico Tradizionale di Modena is derived from Italy's particular grape specific region, aged for a certain time for a specific type of barrel.
There is an industry federation in Italy that seals approval for balsamic vinegar that meets these precise parameters. They determine what kind of bottle it can pack in.
In terms of:
Must be made in Modena or neighboring Reggio Emilia in Italy

It should make from Trebbiano grapes grown in one of those two places.

More than 12 years old in wooden barrels
The closest you can get to a "Star Rating" in Modena and Reggio Emilia's associations. Since these two groups have strict rules for inclusion in the federation and vinegar quality guidelines, they are the only guarantee of authentic ageing vinegar.
The Modena Federation appoints its products to cover the crow in a broad round bottle and one of two capsules. A white capsule represents vinegar at least 12 years old, and vintage vinegar has a gold foil — these are at least 25 years old and have the name " Extravecchio".
Reggio Emilia Vinegar bottled with a long thin neck and has a round label to assign vintage. Red seals, like white capsules, indicate at least 12 years of age. Silver is 18 years old and over and gold for 25 years or more.
Today, the thin product on most store shelves made by combining regular white wine vinegar with colors and flavors.
Balsamic Vinegar Uses
Well, balsamic vinegar has come to us from Sunny Italy. This dress is made of grapes compulsively, whole or in part. It is known for its specific and robust aroma, very dark in color, and a rich balance.
Traditional balsamic is not really what you think of as "vinegar". They are more syrup than vinegar because the ageing process shows so much sweetness. That means they are not acidic enough to make a good salad dressing, but they are lovely in a slice of meat.
It can use as a small meal with cooked or smoked meats, fried fish, or other custard desserts.
You can also use as small shot glasses at the end of the meal.
It is often used to highlight the flavors of cheeses and sausages in Italy and eggs, seafood, and steaks.
On the other hand, Italians can even use it with fresh fruit and ice cream!
The flavors are not so high in other countries, and balsamic vinegar often adds to pasta and rice dishes.
This adds a specific and bitter taste and flavor to the dishes and removes their essence accordingly.
Related Post: What Does Hummus Taste Like?
---
Does Soy Sauce Go Bad?
Soy sauce is packed with sodium like any other soy-derived product: miso paste. The shelf is not the right place to keep safe from any microorganisms to form.
It should technically be safe to consume for many years if stored properly, but it does not have to be of the best quality.
Until the soy sauce bottle open, the cupboard seems to be the best place to store it because it is cold and dry there. After opening the bottle, you can keep it in the cupboard or transfer it to the refrigerator.
---
Does Olive Oil Go Bad?
Unlike vinegar, olive oil does not improve its quality with age. Olive will get worse because it is a technically perishable product. Olive oil is extracted from a fruit named olive, so think of it as fruit juice.
The olive oil will last 18 to 24 months in a bottle. It may seem like a long time, but keep in mind that part of it spent on transport. By the time the bottle hit your grocery store shelf, it was already aged.
Check the best date before you buy a new bottle. It would help if you tried to use it within 30 to 60 days to open the bottle.
---
As mentioned earlier in this article, always keep the bottle covered after use. Otherwise, your balsamic vinegar will slowly evaporate. It has no expiration dates and does not go bad quickly. Remember to get the best quality ones and keep them away from the heat, and it will be fine. If you found this post useful, please help share it with your friends!
See you soon!