What Does Hummus Taste Like? If you have never tried hummus and do not even know what it is, then be sure to read this publication of Be Fitness Hub. This delicious product, despite its high-calorie content, will benefit your health.
Here you will find out why you need to try hummus, how and what is better to eat with, and how to make it from chickpeas at home! You are also waiting for you a classic recipe and variations that you can make from several ingredients.
What is Hummus?
Every country in the world has its own signature dish and is associated with it. For example, Russia is Pancakes, Ukraine (Borscht and Bacon), Italy (Pasta and Pizza), Germany (Beer and Sausages), and Israel is, of course, Hummus!
Any person who has visited this country has definitely tried their world-famous snack and will look for it in their country on supermarket shelves or cook it independently.
So, hummus is a Jewish cold appetizer that has a mousse consistency, a spicy-sweet taste, and is made from chickpeas (a variety of peas) and tahini (sesame paste). Served most often with flatbread, pita bread, or chips.
History of Hummus Origin:
There are many versions of where this dish originates. There is no consensus on the national dish of which country it is: Greece, Turkey, Israel, or maybe Cyprus.
It is believed that the first mentions of him were found in Egypt. Agriculture in this country was highly developing, especially the cultivation of cereals and legumes, and in particular, chickpea, which was sold to the countries of Asia Minor.
Even on the frescoes dedicated to Nefertiti and Emperor Akhenaten's love, a chickpea branch is depicted, symbolizing masculine strength. And in Japan, chickpea grains found in the tomb of Tutankhamun were recently able to sprout.
Hummus is still mentioned in the work of the great Homer "Iliad" of the 8th century BC. In it, he tells in detail about the formidable Greeks' diet and, in particular, about hummus.
The famous historian Pliny also talked about this snack and recommended it as a stimulant for childbirth and lactation.
In ancient times, chickpeas were used not only in making hummus. The founder of botany, Dioscorides, discovered its medicinal properties: a positive effect on the digestive system. He often used it in the treatment of warriors and even included it in his famous descriptions of 1,500 medicines that he developed.
In the 1-2 centuries A.D., it is believed that the flourishing of Rome's trade came, and it was at this time that chickpeas came to India, where they received their further distribution and development. There are new ways of processing and using it that were invented.
More recently, 10-15 years ago, hummus made its way to Europe and received recognition there. It is prepared according to many different recipes; it is found in many countries globally and is one of the most common cold snacks.
Related: 15 Outstanding Ramen Restaurants in Tokyo
What Does Hummus Taste and Smell Like?
Thanks to the crushed chickpeas, hummus tastes sweet and nutty-bean, which is incredibly creamy from the presence of tahini in sesame paste. Lemon juice adds a tart flavor, while garlic adds tanginess. The aroma can vary depending on spices such as sumac, cumin, and smoked paprika.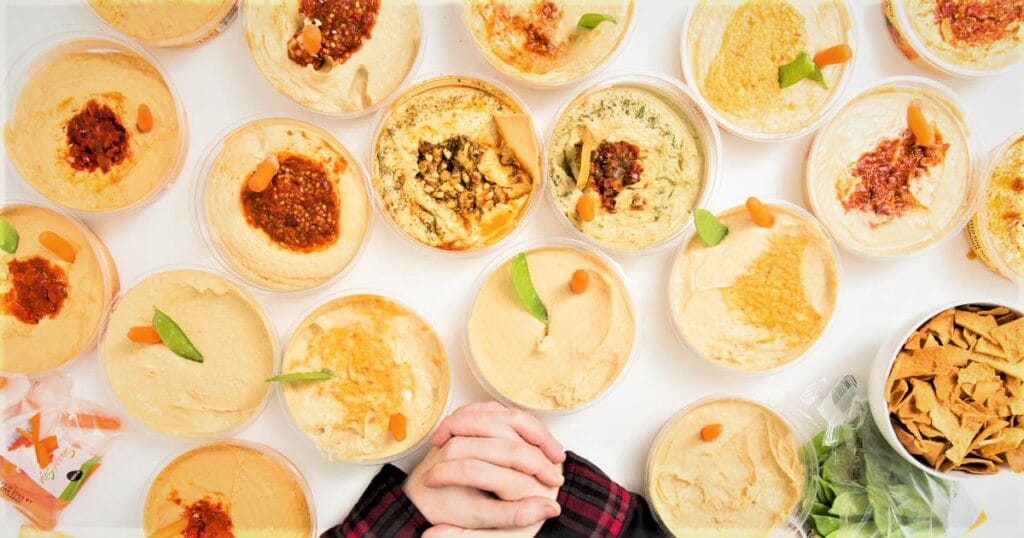 How to Make Hummus at Home Recipe?
All you need to make hummus at home should require a few ingredients:
Chickpeas (Boiled and Chilled)

Tahini (as a last resort, you can replace it with another nut butter)

Lemon Juice

Olive Oil
How to Cook Chickpeas for Hummus?
Place the chickpeas on a large plate. Examine it and look for damaged beans, rocks, and any other foreign matter that needs to be thrown away.

Rinse the chickpeas several times until the water runs clear. Soak it in clean water overnight with 1 tablespoon of baking soda. Then, wash it and soak it again in tap water for a few more hours. The grains should absorb most of the water and become almost double their original volume.

Wash the chickpeas well and place them in a large saucepan. Cover with water and simmer over medium heat until the beans can easily crush between two fingers. This will take about 1-1.5 hours, during which it is recommended to remove the foam.
When the chickpeas are boiled, strain them and set aside some water after cooking. It can be added to hummus if it is too thick.
Further on befitnesshub.com, you will find many options for delicious recipes for the step-by-step preparation of hummus with visual photos, and you will learn how to make it at home.
Classic Chickpea Hummus Recipe
This classic hummus recipe can easily modify by adding additional spices, vegetables, or other ingredients as desired. Add 1 to 3 teaspoons of savory spices such as cumin, sumac, harissa, or smoked paprika.
Ingredients:
1 Clove of Garlic

1 Cup cooked chickpeas

2 Tablespoons lemon juice

2 tbsp. l. tahini (sesame paste)

¼ h. L. Table salt

2 tbsp. L. Olive oil

2 tsp Water

Paprika (optional)
How to Cook Chickpea Hummus:
Combine garlic, washed and dried chickpeas, salt, lemon juice, tahini (sesame paste), olive oil, and water in a food processor and chopped until smooth, scraping off sides of the bowl as needed.

Taste and add salt, olive oil, or paprika as needed—store classic hummus in the refrigerator for up to 7 days.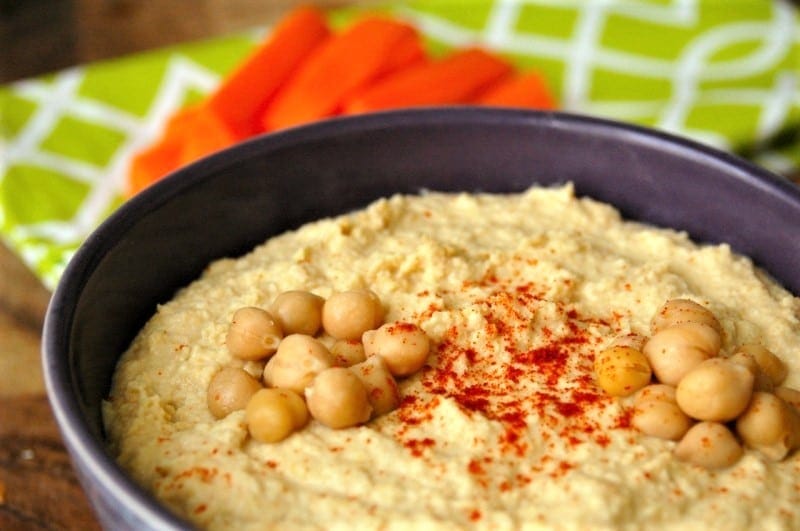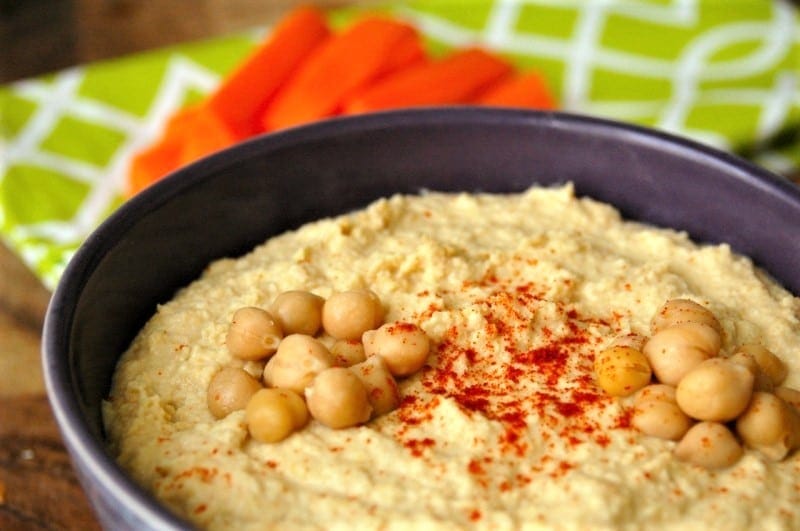 Beetroot Hummus Recipe
Ingredients Require:
1 large Red Beet (about 300 grams)

1/3 cup Tahini

1/3 cup Olive Oil

400 g cooked and chilled chickpeas (or canned)

1 large clove of Garlic

3 tablespoons of freshly squeezed lemon juice (1-2 lemons)

1 teaspoon salt

One tsp Smoked Paprika

1 tsp Ground Cumin

a sprig of chopped fresh Cilantro
How to Cook Beetroot Hummus:
Preheat the

oven to 200 C.
Peel the beets, wrap them completely in aluminum foil, and place them on a baking sheet. Bake until cooked through, about 1 hour. Let it cool down.
Cut the beets into large pieces—place them

in a food processor equipped with a blade.

Add tahini, olive oil, chickpeas, garlic, lemon juice, salt, paprika, and cumin.

Grind until the mixture is smooth and creamy; this will take 2 to 3 minutes.

Sprinkle with cilantro after chopping.
Prepared beetroot hummus can be stored in an airtight container in the refrigerator for up to 1 week.

Related: Does Balsamic Vinegar Go Bad?
Pumpkin Hummus Recipe
Added to the classic hummus recipe, the pumpkin gives it a creamy, juicy texture and at the same time a bright orange hue.
Cooking Method:
Combine all the chickpeas, pumpkin puree, paprika, lemon juice, and garlic ingredients in a blender or food processor, then blend, adding olive oil slowly while the machine is running.

Once the hummus is smooth, season it to taste with salt and pepper, then sprinkle with black sesame seeds for an interesting crunch.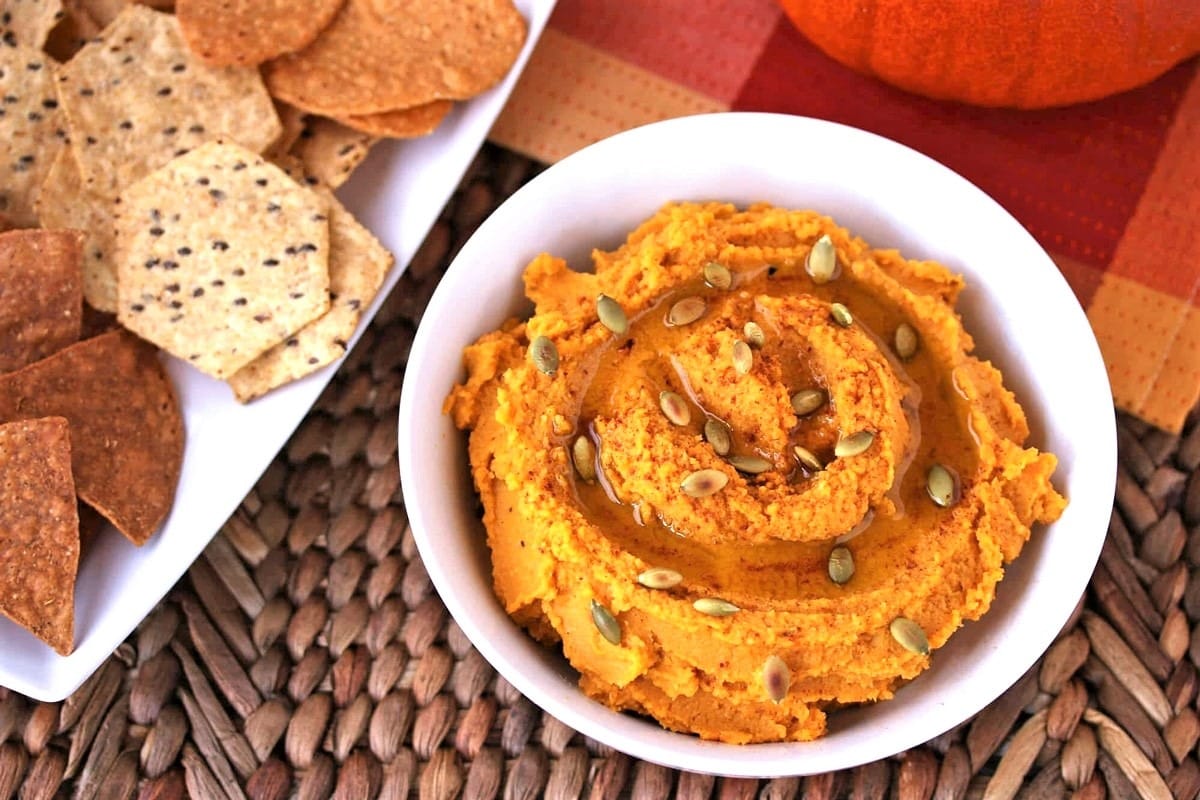 Hummus Chemical Composition
Hummus is a good source of many vitamins and minerals, including vitamin B-6, folate, and thiamine.
Nutritional Value of Hummus Per 100g
| Nutritional Components | As per 100g |
| --- | --- |
| Energy value (calorie content) | 177 Cal |
| Carbohydrates | 20 g |
| Protein | 4.9 g |
| Fats | 8.6 g |
| Dietary fiber (fiber) | 4 g |
| Folates | 59 μg |
| Pyridoxine | 0,4 mg |
| Thiamine | 0.1 mg |
| Vitamin C | 7.9 mg |
| Potassium | 173 mg |
| Calcium | 49 mg |
| Copper | 0.2 mg |
| Iron | 1,6 mg |
| Magnesium | 29 mg |
| Manganese | 0.6 mg |
| Zinc | 1.1 mg |
| Phosphorus | 110 mg |
All ingredients in hummus are rich in many important vitamins and minerals. Tahini contains copper, magnesium, zinc, iron, phosphorus, and calcium. Garlic is trace elements that contain antioxidants, and vitamins (manganese, vitamins B6 and C, selenium).
Olive oil is rich in healthy monounsaturated fats and contains small amounts of vitamins E and K. It is packed with antioxidants. Antioxidants are biologically active compounds that help the body fight inflammation and prevent disease.
Although hummus is rich in vitamins and minerals, it should be eaten in moderation because the calorie content per 100 grams is quite high – an average of 177 calories.
How and with What to eat Hummus to Make it Tasty?
Here are a few ways you can eat and enjoy hummus to fully enjoy its taste.
Spread hummus on bread or toasted toast.

Use mayonnaise or mustard.

Dip pita bread or your favorite chips in hummus.

Combine mashed potatoes with hummus.

Boil the eggs, refrigerate, cut them in half, remove the yolk, and then combine with the hummus. Put this mixture back in the egg whites, and the savory snack is ready!

Carrots, broccoli, cucumbers – are there vegetables that don't go well with hummus?

Add it to baked fish along with rosemary.

Combine hummus with olive oil, lemon juice, and paprika for an easy, healthy salad dressing.

It can use like butter on sandwiches, burgers, and crackers.

Just eat hummus with a spoon.
Given the many health benefits of hummus and its delicious taste, it's no surprise that this dish has gained worldwide popularity.
Related: Best Oil for Cast Iron Seasoning
How Hummus Recipe Should you Eat?
Those who have visited Eastern countries such as Israel, Turkey, and Lebanon at least once will answer without delay what hummus is. This spicy cold appetizer is insanely popular in these regions and is considered quite a traditional dish. If you want to know what kind of delicacy it is and what it is eaten with, then the following information will be useful for you.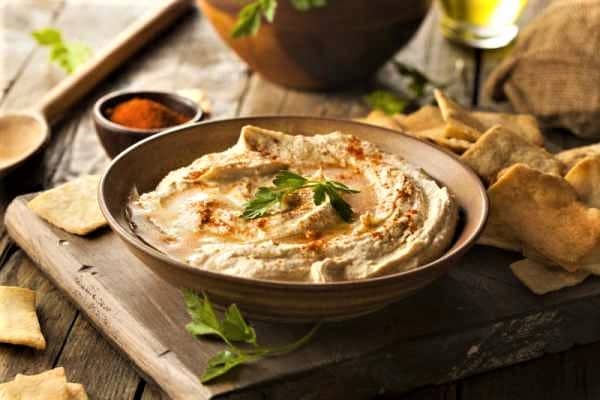 Hummus is a spicy cold appetizer, similar in appearance and consistency to a paste. The photos in the article clearly show this. This dish is made from chickpeas (lamb peas) with spices and herbs and sesame paste, which is called tahini in eastern countries. Ingredients like these can tell you what hummus tastes like.
Low-calorie is very satisfying in hummus and one of the favorite dishes of vegetarians and supporters of proper nutrition. One tablespoon of this product contains 25 calories. This delicacy is extremely healthy and the basis of this dish is chickpeas. And it is known to help regulate blood sugar levels. Moreover, this product contains an abundance of fiber and other useful substances that have a beneficial effect on the body's vital functions.
Health Benefits of Hummus
Classic, authentic hummus is nutritious and packed with healthy nutrients that will benefit your health; here's what it does:
Excellent Source of Vegetable Protein
The main ingredient in hummus is chickpea, which belongs to the legume family and contains a large amount of vegetable protein: one tablespoon of chickpeas contains about 2.6g.
Eating high-protein foods speed up satiety, suppresses appetite, stabilizes blood sugar, and regulates weight loss. Protein deficiencies are most common in children, vegetarians, and vegans. Hummus is a great way to get extra protein, especially if you don't consume animal or fish protein.
Good Source of Dietary Fiber
The fiber found in hummus is well known for its beneficial properties in maintaining a healthy digestive system. It helps control appetite and blood sugar and reduces the risks of obesity, heart disease, type 2 diabetes, irritable bowel syndrome, and hemorrhoids.
Contains Healthy Fats
Thanks to the main ingredient in hummus, chickpeas, this snack contains polyunsaturated and monounsaturated fats that are considered beneficial for our health. They improve blood cholesterol levels and reduce the risk of heart disease and type 2 diabetes.
Diabetic People Can Eat
It is a very low glycemic index product (6 out of 100) and does not cause an insulin spike in the blood.
Good for Weight Loss
It can be enjoyed even on the strictest diet, replacing sour cream or mayonnaise with it to reduce calorie intake.
Help in Pregnancy for women
It is quite normal to eat hummus during pregnancy and while breastfeeding. It is rich in essential nutrients, including protein, fiber, folate, and iron.
Contraindications (Harm) and Side Effects of Hummus
While hummus is a very healthy snack, that doesn't mean it can be consumed in large quantities. This is not a dietary product because of its rather large calorie content.
Hummus has more benefits than harm, but there are some contraindications to its use:
Individual intolerance to any of the ingredients.

If you are obese, it is undesirable to eat a lot of hummus.

Hummus should not be consumed by those people who are prone to flatulence from legumes.